Start learning the art of Stained Glass. We have openings in both our Saturday afternoon, and Thursday evening classes.
Intermediate and Advanced Stained Glass classes available on request.
No tool purchase required during our 40 anniversary celebration.
Ed's Emporium Since 1981
#WeTeachGlass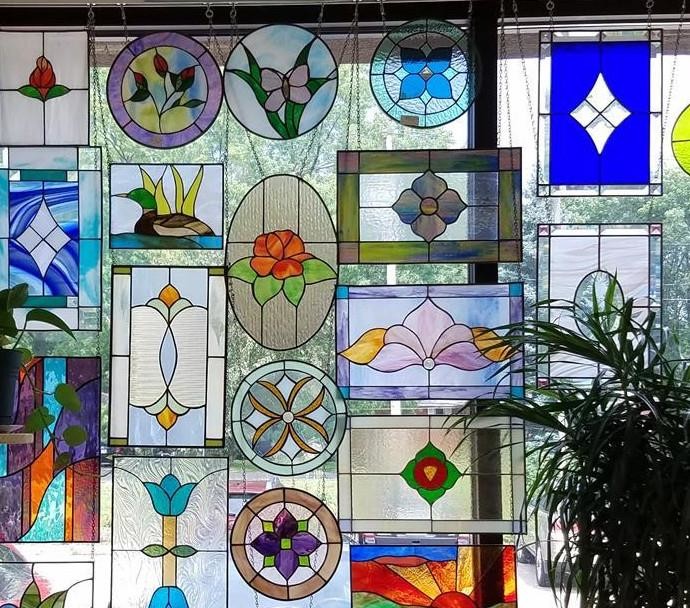 Basic Stained Glass 101
Thursday Sessions start Feb 11th.
Saturday Sessions start Feb 13th.

Intermediate and Advanced class available on request
Stained glass class are limited to only 4 students until the CDC guidelines change.
Six Week Basic Stained Glass 101 enrolling Now. THURSDAYS 6:30-8:30
New classes start soon. Maximum of 4 students.
$140.00 The class fee includes all materials except glass, your choice of 12 different patterns, and the use of our tools.
You will receive 15% off any regular stock glass while enrolled.
Stained Glass Kits are available at a discount while you are enrolled in class.
Cannot make Thursdays?
Four week Basic Stained Glass 101 Every other SATURDAYS 1:30-4:30pm
$140 + glass Maximum of 4 student The class fee includes all materials except glass, your choice of 12 different patterns, and the use of our tools.
You will receive 15% off any regular stock glass while enrolled.Stained Glass Kits are available at a discount while you are enrolled in class.
Reserve Now with PayPal
Contact us at 318-742-6555 to reserve your class dates
Stained Glass 101

Thursday Night

Plus Glass (Aprox $30).Pay at the shop and save the 3% PayPal fee. Please read Fine Print below

Stained Glass 101

Saturday Afternoon

Plus Glass (Aprox $30). Pay at the shop and save the 3% PayPal fee. Please read Fine Print below
FINE PRINT -
Terms apply to all classes at Ed's Emporium Stained Glass Studio. As a courtesy to others, please read and comply.

1. Your class will start on time. Please be on time and prepared with a face mask.
2. Please put your phone on silent so that it won't disrupt the class.
3. Payment is required when you register for a class. When you register, we reserve that space and purchase supplies for you. If you need to cancel, we need at least 7 days advance notice. With 7 days notice, you will receive store credit for your tuition. Otherwise, you will forfeit the tuition. Classes with guest artists are never refundable in any manner.
4. In the event of class cancellation, you will receive a full refund.
5. Participants give permission for Ed's Emporium to take and use photographs which may include their image or artwork.
6. Safety Glasses are required, we have some for you to wear. (They are also available for purchase) and Wear Closed Toe Shoes.
7. Everyone who is present for a class must be enrolled in that class.
8. If the class is "plus supplies", only supplies purchased AT Ed's Emporium are permitted.
9. We prefer that Class Fees be paid by check or cash. NOTICE: Credit / Debit cards and PayPal will incur an additional 3% processing fee.
10. Our primary goal is for you to have a good time!

Thanks for your understanding,

Eric Allen Owner/Artist
Store Hours
Our Studio Hours
Tuesday thru Friday 10am-4pm
Saturday 10am-1pm
318-742-6555