| | |
| --- | --- |
| www.ourladyscenter.net • 410-461-5066 | |

The month of April is dedicated to the Blessed Sacrament of the Holy Eucharist,
Jesus present to us body, blood, soul and divinity. More here.
O salutaris Hostia, Quae caeli pandis ostium: Bella premunt hostilia, Da robur, fer auxilium. Uni trinoque Domino Sit sempiterna gloria, Qui vitam sine termino Nobis donet in patria. Amen.
Thy Word Newsletter
April 2017
Family Concecration to
Divine Mercy
Friday, April 21

Defend Life Talk
with Dr. Christina Lynch
Friday, April 21, 1:00 pm

Spring Clean Up Day
Saturday, April 29
9:30 am
Easter Closing Schedule:
Our Lady's Center will be closed Holy Thursday
through Easter Sunday.
We will reopen with normal hours on Monday, April 17th.
Act of Consecration
of the Families to the Divine Mercy Friday, April 21st during
Noon & 7:30 pm Masses

OLC will begin celebrating the weekend of Divine Mercy Sunday by leading all present in the Act of Consecration of the Families to the Divine Mercy. Let us avail ourselves and our families of the graces of Divine Mercy and celebrate the infinite mercy of God. Pray for all your family members, and then stay to hear Dr. Christina Lynch's talk on connecting with the millennial generation, many of whom within our own families have become disengaged and apathetic to the Church.
Dr. Christine Lynch
Defend Life Talk
Friday, April 21,
1:00 pm
The Defend Life Lecture Tour continues with Dr. Lynch speaking on "One of America's Biggest Challenges: How to Connect with the Millenial Generation." Dr. Lynch is a seminary teacher, therapist and EWTN commentator. She is teaching future priests how to deal with the challenges facing over-connected and often disengaged millenials. The talk will take place in the conference room following Mass and will be followed by cake and lively discussion. Please join us.
Traditional Latin Mass
& Pot Luck Tuesday, April 25th,
6:30 pm
A meditative low Mass will be offered by Fr. Canisius Tah of the Church of the Resurrection in Ellicott City. Missals are provided with Latin on one side and English on the other, so it is not difficult to follow along. After Mass, we will enjoy light fare and lively conversation in the conference room. Please bring something to share if you can. Find out why Traditional Latin Mass is so awesome

HERE

.

And

HERE

is an interesting perspective on the Low Mass from an eighteen-year-old Australian living in Mongolia and discerning the priesthood.
OLC's Annual Spring Clean Up Day
Saturday, April 29, 9:30 am until whenever
It's that time of year again! Spring cleaning is upon us, and it's time to give Our Lady's Center a good scrub, trim, and polish. Come join us for a day full of fun, laughter, cleaning, and food! If you're the outdoorsy type, we'll have tree-trimming, weeding, planting, mulching, and more. Indoors, we'll have polishing and window-washing. Come spend time with your OLC community, giving back to Our Lady for all that she does for us, and then enjoy a real feast! Bring something to share for our big potluck. We'll provide the burgers, hotdogs, & buns! Sign up in the bookstore and let us know what you're bringing!...or email our volunteer coordinator

HERE

!
Saturday, May 13th,
the Feast Day of Our Lady of Fatima

Our Lady's Center is planning a very special day in honor of Our Lady! The day will begin with a Rosary at 10:00 am and Holy Mass at 10:30 am, followed by sacred hymns sung by the St. Philomena Apostolate Choir and a May Procession and Crowning of the Blessed Mother. Confessions will follow, and the bookstore will be open until 2:00. You will be able to receive a plenary indulgence on the 13th day of each month from May through December by coming to OLC and honoring the Pilgrim Virgin Statue of Our Lady of Fatima which permanently resides in our chapel, praying the Our Father, reciting the Creed, and invoking Our Lady of Fatima.
OLC Brings its Large Selection of Religious
Items to Over 1,100 Catholic Men!
Our Lady's Center was once again delighted to be a vendor at the annual Catholic Men's Fellowship of Maryland Conference, this time held at a larger venue: Morgan State University in Baltimore. The turnout was huge, and the attendees were enthusiastic. Our President of the Board, Jack Kissane, and Board Member Nick Nucci manned the tables and enjoyed hearing the excellent talks given by Scott Hahn and Deacon Paul Shelton. Board Secretary Carolyn Niebauer was able to speak briefly with our own Archbishop William Lori who celebrated Mass for the 1,100 plus attendees. As always, it was a joy and hope-inspiring to be around so many faith-filled Catholic men in one place.
The World-famous International Pilgrim
Virgin Statue Graces Our Lady's Center!
Anyone familiar with Our Lady's Center knows there's often unexplainably exciting things that happen here. For example, what could top being broadcast live across the WMET listening area and worldwide through the internet? As if our February 14th radio adventure wasn't exciting enough, a few weeks later, we received some stunning news.

Board Secretary Carolyn Niebauer, quite off-handedly, vocalized the wish that the International Pilgrim Virgin Statue of Our Lady of Fatima would come to Our Lady's Center as part of it's Centennial U.S. Tour for Peace. OLC is, after all, a Marian shrine dedicated to Our Lady of Fatima. "Well, why isn't it coming here?" questioned Manager Christine in an equally off-handed manner. While Carolyn explained the unlikelihood that we could have made it through the months-long screening process which would have had to have commenced long before, Ginny was busy checking the Blue Army's website and jotting down contact information. Carolyn called them, only to be told that everything was quite booked up... but that they would check and call us back. Stunningly, they called back with news practically unheard of: there had been a cancellation in a neighboring archdiocese! They asked if we would like the statue to visit OLC on March 31st. We could have her all day on a Friday during Lent? Absolutely we wanted her!

However, elation soon turned to concern as the Board discussed the daunting logistics of handling a potentially huge crowd at our little center with its very limited parking capacity. After much discussion on changing venue, the Board voted to have the statue visit OLC. Our Lady had chosen us, after all.

The call went out for parking volunteers and greeters. Arrangements were made for a shuttle to travel to and from a nearby municipal parking lot. The conference room was wired for remote broadcast from the chapel. Signs, banners and new novena books were printed. Howard County police were alerted about our need for traffic assistance. WMET broadcast our news multiple times a day for the eight days leading up to the event. Announcements were published in local church bulletins. Our own Legion of Mary, Our Lady Undoer of Knots Praesidium, was engaged to handle refreshments for our visitors. Members of the Board and employees alike all worked diligently to accomplish all assigned responsibilities. An air of excitement and anticipation permeated the Center.

The results? Astonishing! Despite the threat of downpours and possible localized flooding, people turned out by the hundreds. Many visitors took advantage of the very comfortable shuttle which ran all day, transporting our patrons in style. All through the day, people prayed for peace before the lovely Fatima statue and placed their petitions before it. We've estimated that at least 600 people came through. Nearly 400 people attended the two Masses, including nearly 50 seats in the Conference room for the remote broadcast. Three priests concelebrated the Noon Mass and two the 7:30 Mass. Many confessions were heard, including a daunting four hour stretch by our own Msgr. Lizor! Hundreds were invested with the Holy Scapular. OLC announced that both Mass collections would go to the World Apostolate of Fatima to help fund this amazing tour. You, our wonderfully generous patrons, gave a whopping $3025! You were also generous with your purchases in our bookstore, giving us our best day ever, by far!

We cannot begin to thank all who gave 110% effort to make this historic day so successful. From the parking volunteers, many of whom were KofC members, who spent hours in the pouring rain, to the Legion ladies who kept the delicious and abundant refreshments going, to the volunteers who just showed up to help in any way they could, to our priests, Msgr. Lizor, Fr. Anthony Anichukwu, Fr. Canisius Tah, and Fr. Michael Niba, who brought their servants' hearts and gave so much of their time and energy.

We are certain that the statue's steward, Patrick Sabat, did not anticipate the huge, generous, enthusiastic response he would get here at this little chapel, but we knew. Our patrons love Our Lady, and it really showed. Thank you from the bottom of our hearts to all who came and made this day a day to remember at Our Lady's Center! We are already talking about doing it again one day. Until then, don't forget to mark the 13th of each month, from May through October of this year, to come back to OLC for more Fatima events and indulgence opportunities. See more below!


Oops! Some of our newly reprinted Novena Books escaped from the chapel during the Fatima statue visit. If one followed you home, please return it to the chapel. We need them for our devotions. Thank you!

The Curious "Coincidence" of the Fatima Statues

​Those who listened to WMET 1160 Catholic radio on February 14th might remember that we raffled off an Our Lady of Fatima Pilgrim Statue from our stock during the broadcast. Anyone who came into the store that day was entered for a chance to win. As it turned out, former manager of OLC, Veronica (Nikki) Henson's name was drawn. She promptly donated it back to the Center, feeling it was meant for someone else. Another name was drawn, a dear patron of ours who wishes to remain unnamed. She told us she had decided that, if her name were drawn, that she would donate the statue to a nearby religious order. She decided to bring the statue to the All Saints Sisters of the Poor in Catonsville, an order that was accepted into full Communion with the Catholic Church through the Anglican Rite in 2009. They were delighted with the gift! Although they declined to have their photo taken, they did set a sweet doll, which one of them had made and

dressed in their habit, at the Virgin's feet. Perhaps the good Sisters prayed a special prayer of blessing upon our patron and upon Our Lady's Center for the generosity, for it was hardly a week later that we received the news that the world-famous International Pilgrim Virgin Statue of Our Lady of Fatima would be visiting our little place of grace! And our dear generous patron and Nikki were both there to enjoy her visit. Far from a coincidence, we recognize this as one more example that Our Lord and Our Lady will never be outdone in generosity.
Our Lady's Center is a Fatima Pilgrimage Site
for Plenary Indulgences!
2017 is the 100th Anniversary of the Apparitions of Our Lady in Fatima, Portugal. This is the year of Fatima. Our Lady's Center will be a site where pilgrims may come and pray before our own beautiful Pilgrim Statue permanently enshrined in our chapel and fulfill the other necessary requirements to receive a plenary indulgence. The special days to gain an indulgence will be the 13th of each month between May and October, the days on which Our Lady appeared to the three children in Fatima Portugal 100 years ago. Read more

HERE

and

HERE

. Our Lady of Fatima is the Center's patroness and protector, and we are dedicated to her and receive her constant protection. We always offer the First Saturday Masses and devotions as she requested.

April Feasts


4/4 St. Isadore of Seville
4/5 St. Vincent Ferrer
4/7 St. John Baptist de la Salle;
Seven Sorrows of the B.V. Mary
4/9 Palm Sunday
4/11 St. Stanislaus, St. Leo the Great
4/13 Holy Thursday
4/14 Good Friday
4/15 Holy Saturday - Easter Vigil
4/16 Easter Sunday
4/23 Divine Mercy Sunday
4/25 St. Mark
4/28 St. Louis Marie de Montfort;
St. Gianna Molla
4/29 St. Catherine of Siena

4/13-4/16 Center CLOSED for Easter

4/21 Family Consecration to Divine Mercy at both Noon & 7:30 Masses;
Dr. Christina Lynch speaks at 1:00

4/25 Latin Mass & Pot Luck, 6:30 pm

4/29 Annual Spring Clean Up, 9:30 am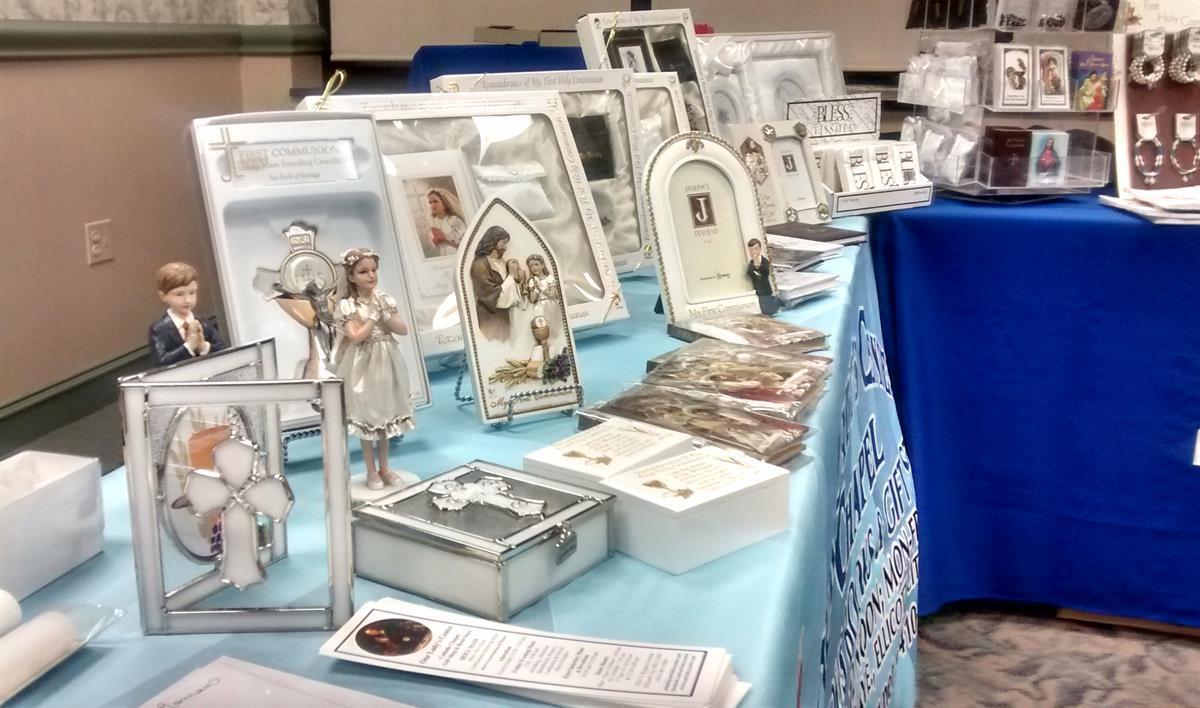 Visit our huge First Holy Communion section filled with boy's and girl's missal sets, children's bibles, handmade veils, purses, communion jewelry, medals, pins, greeting cards, statues, frames, and giftware! New items arriving daily.
| | |
| --- | --- |
| Our popular Hail Mary Pashminas and Holy Mary and Divine Mercy Infinities are finally back in stock!! | Come select an outdoor statue to complete your Spring garden. Don't forget to use the coupon below! |
| | |
| --- | --- |
| The NEW Ignatius of Loyola DVD is out, and it is excellent! Come get your copy now. | And how about a do-it-yourself retreat using your newly-ignited Ignatian Spirituality? |
SAVE YOUR INK!
Click
HERE
for a printer-friendly coupon.
APRIL SPECIAL!
15% OFF
Outdoor Statue

Must present coupon at time of purchase. Valid on regularly priced items only.
Coupon not valid on previously purchased items and cannot be
combined with other coupons. Limit one coupon per visit.
Expires 4/30/2017

Can't Get to our Store?

Our homebound and out-of-town patrons have found shopping at our online store convenient and helpful. We carry a variety of medals, crucifixes, and rosaries there for your convenience. You can shop anytime and choose to have your items shipped either to your home address or to anywhere you need them sent. We thank you for supporting OLC and appreciate any and all patronage as the proceeds of all sales go toward supporting our unique apostolate. Click here to visit now:
Our Lady's Center Marian Shrine

3301 S. Rogers Ave

Ellicott City, MD 21043

(410) 461-5066

Store Hours

Monday - Thursday: 10:00 am - 4:00 pm*
Friday: 10:00 am - 7:30 pm*
First Saturday: 10:00 am -10:30 am; 12:30 pm - 2:00 pm
*Please note that the store is always closed during the noon Mass
Chapel Hours:

Holy Sacrifice
of the Mass

Monday-Friday: 12:00pm
Friday night: 7:30 pm
1st Saturdays: 10:30 am

Rosary

Monday-Friday: 11:30 am



Confessions


Following all Masses



Adoration


Friday: 12:30 - 7:30 pm

Friday Night Devotions



Holy Mass: 7:30 pm
Followed by: Confessions, Rosary, Divine Mercy Chaplet, Adoration of the Blessed Sacrament and Benediction
| | |
| --- | --- |
| Our Lady's Center Marian Shrine is a Catholic lay apostolate within the Archdiocese of Baltimore located outside of Baltimore, Maryland in Ellicott City. We offer the Holy Sacrifice of the Mass and confessions upstairs in our chapel each weekday and on first Saturdays. Downstairs in our beautiful store, we carry a large selection of Catholic books and religious articles to meet every need. We have many events and activities throughout each month. | |