| | |
| --- | --- |
| www.ourladyscenter.net • 410-461-5066 | |

Lord Jesus Christ, who, being made subject to Mary and Joseph, didst consecrate domestic life by Thine ineffable virtues; grant that we, with the assistance of both, may be taught by the example of Thy Holy Family and may attain to its everlasting fellowship. Who livest and reignest forever. Amen.
Thy Word Newsletter
February 2017
Blessing of Throats
on the Feast Day of St. Blaise
Friday, February 3rd, 12:00 Noon Mass
Join us for Mass and stay to have your throat blessed with candles. This tradition dates back to the 4th century after St. Blaise, a bishop and martyr saved a boy choking on a fishbone. While we invoke St. Blaise for his protection against any physical ailment of the throat, we should also ask his protection against any spiritual ailment—, profanity, cursing, unkind remarks, detraction, or gossip. St. James warns us, "If a man who does not control his tongue imagines that he is devout, he is self-deceived; his worship is pointless." This warning is particularly appropriate in a society whose interactions have become more and more uncivil. St. Blaise, protect us!
First Saturday Mass & Devotions and Monthly Mission Presentation

Saturday, February 4th
Beginning with 10:30 am Mass
We are excited to announce that, along with our regularly scheduled First Saturday Mass and Devotions, we will be featuring a short presentation by a ministry each month along with materials and information to take home. First up will be the Legion of Mary, Our Lady Undoer of Knots Praesidium which meets right here at OLC. Come learn more about this prayerful and active ministry, meet the women who have made this chapter so vibrant, and ask them questions!
Defend Life Talk:
Fr. Paul Schenck
Friday, Feb. 17th, 1:00 pm
The Spring Defend Life Lecture Tour kicks off with Fr. Paul Schenck speaking on "What Now? Trump and the Pro-Life Conscience." Father of nine and a Catholic convert, Fr. Schenck is a theology professor, health care ethicist, and seasoned veteran of the Pro-Life advocacy movement, having spent the last 32 years as a crisis pregnancy and sidewalk counselor, teacher, media spokesman, author, federal prisoner, and Supreme Court petitioner. Let's turn out big for this fearless and tireless defender of the innocent. Cake and conversation will follow in the Conference room. Please join us!
Traditional Latin Mass
& Pot Luck Tuesday, Feb. 28, 6:30 pm

Please join us for a meditative low Mass

offered by Fr. Canisius Tah of the Church of the Resurrection in Ellicott City.

Missals are provided with Latin on one side and English on the other, so it is not difficult to follow along. After Mass, we will enjoy light fare and lively conversation in the conference room. Please bring something to share if you can and take advantage of a great chance to ask Father questions and to make some new friends. Find out why Traditional Latin Mass is so awesome

H

ERE.
SAVE THESE EARLY MARCH DATES...
Ash Wednesday Ashes March 1st at Noon Mass Lent begins March 1st! Come to Our Lady's Center for Mass at noon on that Wednesday and receive your ashes. The ashes come from last year's blessed Palm Sunday palms, one of the many sacred traditions that convey the inexpressible richness of our beautiful Catholic faith. Also, as Lent begins, consider stepping out of your comfort zone and committing to pray one hour a week in front of an abortion facility. 40 Days for Life is a peaceful campaign of prayer and fasting for the end to abortion. Since 2007, over 11,000 lives have been saved. Be a part of it

HERE

. And drop by the Book Store to pick up some wonderful devotionals to help you make this the best Lent ever. See below for ideas.
Venerate the True Cross Friday, March 3rd after
Noon & 7:30 pm Masses
Join us for this special opportunity to venerate the actual cross upon which Our Lord died for our salvation! Our Lady's Center is the humble steward of this small fragment of the True Cross. This relic will be made available for veneration during two Fridays this Lent: March 3rd and April 7th, following both our noon and 7:30 pm Masses. Veneration will take place before Exposition of the Blessed Sacrament for Friday Adoration and will also be followed by Confessions and the Stations of the Cross. Come make this Lent an extra special one with us! And click HERE to learn more about the Catholic Church and relics.
OLC's First Holy Communion Parish Tour
OLC's is ordering now for First Holy Communion Season, our busiest time of year! Come see our growing selection of gifts at the Center. But if you can't come to us, don't worry. We very likely will be coming to you! Many area parishes host us on weekends throughout the Spring season, and we bring with us a beautiful assortment of First Holy Communion merchandise, including medals, rosaries, missals, children's bibles, gift sets, greeting cards and gift bags. Check with your parish office for dates and times or to place a request that we come.
Our Lady's Center is a Fatima Pilgrimage Site!
2017 is the 100th Anniversary of the Apparitions of Our Lady in Fatima, Portugal. This is the year of Fatima. Our Lady's Center is excited to announce that we will be a place of pilgrimage where pilgrims may come and pray before our Pilgrim Statue in the chapel and fulfill the other necessary requirements to receive a plenary indulgence. The special days to gain an indulgence will be the 13th of each month between May and October, the days on which Our Lady appeared to the three children in Fatima Portugal 100 years ago. Read more

HERE

and

HERE

. Our Lady of Fatima is the Center's patroness and protector, and we are dedicated to her and receive her constant protection. We always offer the First Saturday Masses and devotions as she requested.
Please Remain Vigilant!

Once again, legislation has been introduced into the MD legislature promoting assisted suicide under the guise of compassion. Do not be misled by supposedly good intentions or by the innocuous name it will surely be given. Assisted suicide, like abortion, is the deliberate taking of human life, and the Catholic Church recognizes all such state-sanctioned practices as inherently evil. Read more

H

ERE

and prayerfully consider contacting your legislators to encourage them to defend the sanctity of human life.
2000 Hail Marys Prayed on Inauguration Day!
With the country holding its collective breath, the 45th President of the United States took the oath of office. We at Our Lady's Center could think of no more important thing to do than to pray for the safety of all involved, for a peaceful transition of power, for unity and for the healing of our nation. Many showed up here throughout the day to take part in the 2000 Hail Marys Day of Devotion and to pray before the Blessed Sacrament. We are so grateful for the wonderful response we received and know that your prayers were heard. Amid the incidents of social unrest, there was no loss of life. Let us continue to pray for our Nation!
OLC represented at the 2017 March for Life
Board Member Ada and Manager Christine represented Our Lady's Center's pro-life support at the 2017 March for Life in DC on January 27th, among hundreds of thousands who turned out in defense of the sanctity of human life. We would like to thank all those who prayed for the attendees, especially those who came out to OLC and prayed before the Blessed Sacrament in Adoration. It was a beautiful, grace filled day of hope. See a time-lapse of the entire March HERE. The actual March formally begins 40 seconds in. Many people could not get through the heavy security put in place due to VP Mike Pence speaking at the rally near the Washington Monument, so they started marching down Constiution Ave. early. Keep watching until the end!

February Special Feasts:


2/02: Presentation of Our Lord


2/03: St. Blaise


2/05: St. Agatha
2/08: St. Josephine Bakhita
2/10: St. Scholastica


2/11: Our Lady of Lourdes


2/14: St. Valentine
2/20: Bl. Jacinta & Francisco Marto
2/22: Chair of St. Peter
2/23: St. Polycarp

Upcoming Events:


2/03: Mass & Blessing of the Throats,
12:00 Noon Mass
2/04: First Sat. Mass & Devotions
beginning at 10:30 am
2/17: Speaker Paul Schenck, Friday
at 1:00 pm followed by cake
2/28: Traditional Latin Mass
& Pot Luck, Tuesday at 6:30 pm
3/01: Ash Wednesday Mass & Ashes,
Noon Mass
3/03: Veneration of the True Cross
following Noon & 7:30 pm Masses
Valentine's Day will soon be here!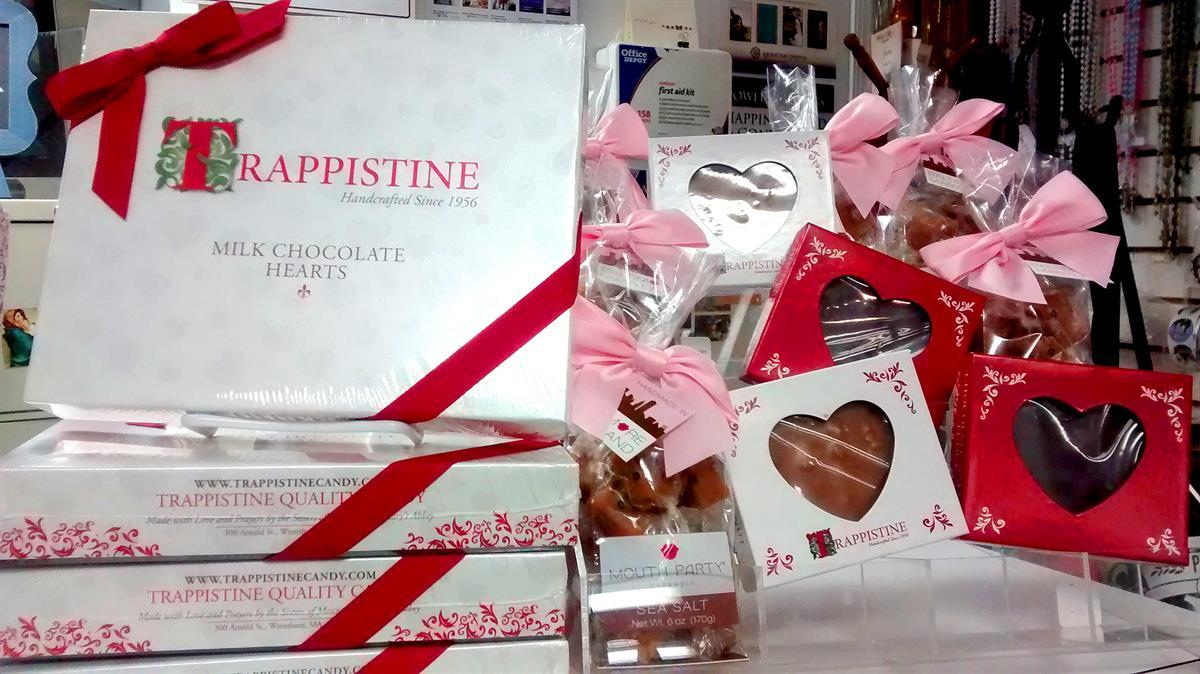 Look what's back in stock just in time! Trappistine Fudge, Penuche, Milk Chocolate & Dark Chocolate Hearts and Mouth Party Caramels for the love in your life!
Lent Begins on March 1st, Ash Wednesday!
Come find your books & devotionals now so you can be prepared for the 40 Days of Lent.
The 100th Anniversary of the Fatima Apparitions!
A large selection of Pilgrim Statues from Portugal, books, DVD's, Rosaries, Medals, and the adorable Little Drops of Water Fatima Statues are now in stock.
Save Your Ink!
Click
HERE
for a printer-friendly coupon.

FEBRUARY SPECIAL!
20% OFF
One Lent Book or Booklet
(Must say Lent or Stations of the Cross on cover)

Must present coupon at time of purchase. Valid on regularly priced items only.
Coupon not valid on previously purchased items and cannot be combined
with other coupons. Limit one coupon per visit.
Expires 02/28/2017

Can't Get to our Store?

Our homebound and out-of-town patrons have found shopping at our online store convenient and helpful. We carry a wide variety of medals, crucifixes, and rosaries there for your convenience. You can shop anytime and choose to have your items shipped either to your home address or to anywhere you need them sent. We thank you for supporting OLC and appreciate any and all patronage as the proceeds of all sales go toward supporting our unique apostolate. Click here to visit now: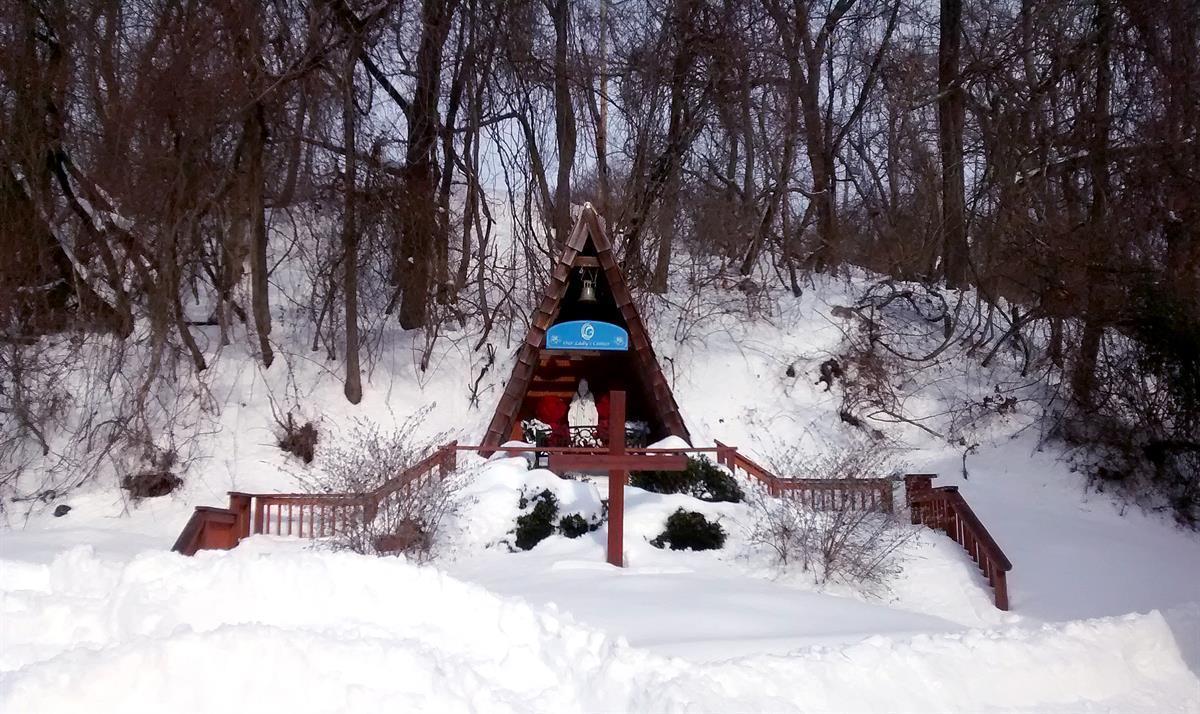 Just a little over a year ago, we were shoveling ourselves out of a blizzard!
Our Lady's Center Marian Shrine

3301 S. Rogers Ave

Ellicott City, MD 21043

(410) 461-5066

Store Hours

Monday - Thursday: 10:00 am - 4:00 pm*
Friday: 10:00 am - 7:30 pm*
First Saturday: 10:00 am -10:30 am; 12:30 pm - 2:00 pm
*Please note that the store is always closed during the noon Mass
Chapel Hours:

Holy Sacrifice
of the Mass

Monday-Friday: 12:00pm
Friday night: 7:30 pm
1st Saturdays: 10:30 am

Rosary

Monday-Friday: 11:30 am



Confessions


Following all Masses



Adoration


Friday: 12:30 - 7:30 pm

Friday Night Devotions



Holy Mass: 7:30 pm
Followed by: Confessions, Rosary, Divine Mercy Chaplet, Adoration of the Blessed Sacrament and Benediction
| | |
| --- | --- |
| Our Lady's Center Marian Shrine is a Catholic lay apostolate within the Archdiocese of Baltimore located outside of Baltimore, Maryland in Ellicott City. We offer the Holy Sacrifice of the Mass and confessions upstairs in our chapel each weekday and on first Saturdays. Downstairs in our beautiful store, we carry a large selection of Catholic books and religious articles to meet every need. We have many events and activities throughout each month. | |