| | |
| --- | --- |
| www.ourladyscenter.net • 410-461-5066 | |

March is dedicated to
St. Joseph,
our model for Catholic fathers.
More here.
Glorious Saint Joseph, tenderhearted father, faithful guardian of Jesus, chaste spouse of the Mother of God, we ask you to join with us in praising God the Father through his divine Son who died on the cross and rose again to give us sinners new life. Through the holy name of Jesus, pray with us that we may obtain from the eternal Father the favors we ask. Amen.
Thy Word Newsletter
March 2016
Venerate the True Cross
March 18 after
Noon & 7:30 pm Masses

Defend Life Talk
with Fr. Peter Ryan
Friday, March 18, 1:00 pm

Zachary King Talk
on Spiritual Warfare
March 22 & 23, 7:00 pm

Easter Triduum Schedule:
Our Lady's Center will be closed Holy Thursday, Good Friday,
Holy Saturday and Easter Sunday (March 24—27)
in order to allow our employees time in prayer in their home parishes and with their families. Although there will be no Masses, devotions or store hours during this time, our outdoor Stations of the Cross and Grotto are always available for quiet self-led prayer. Have a blessed Triduum!

Venerate the True Cross Friday, March 18th after
Noon & 7:30 pm Masses


Join us for this special opportunity to venerate the actual cross upon which Our Lord died for our salvation! Our Lady's Center is the humble steward of this relic, and we will be making it available for veneration for the second and final time this Lent on Friday, March 18, following both our noon and 7:30 pm Masses. Veneration will take place before Exposition of the Blessed Sacrament for Friday Adoration and will also be followed by Confessions and the Stations of the Cross. Click HERE to learn more about the Catholic Church and relics.
Defend Life Talk:
Fr. Peter Ryan, S.J.
Friday, March 18th, 1:00 pm
The Defend Life Lecture Tour continues with Fr. Peter Ryan speaking on "The Church and Contemporary Culture on Sexual Morality and Abortion: Bridging the Great Divide". Fr. Ryan is the Executive Director of Doctrine for the USCCB, professor of moral theology, and author who has written extensively on ethical and theological issues and been published in various scholarly journals. Come hear this accomplished theologian discuss how the Church can rescue a culture adrift. The talk will take place in the conference room.
Zachary King Talk on Spiritual Warfare
Tuesday, March 22rd & Wednesday, March 23th, 7:00-9:00 pm
An average boy in a Christian home who became a high wizard in a Satanic cult, King experienced a sudden and immediate conversion
through an encounter with the Blessed Mother!
That was 11 years ago, and he has been a devout Catholic warrior for Jesus Christ ever since. King is an international speaker and founder of
All Saints Ministry
. He received spiritual direction from the now current rector of the National Shrine of Divine Mercy in Stockbridge, MA, and has agreed to visit OLC on his way to be
featured on EWTN on Divine Mercy Sunday.
Come witness his incredible testimony of redemption and learn what we all need to know for the protection of ourselves, our loved ones, and all God's people. The talk will be suitable for adults and teens (with parental discretion). Priests will be present. Carpooling advised. More on Zachary King
HERE
and
HERE
. Call for more information.
Traditional High Latin Mass & Pot Luck

**EASTER MONDAY**


March 28th, 6:30 pm

We are excited to welcome

Fr. Joseph Langan, now of St. Joseph's in Fullerton, to celebrate the Easter season with a Traditional Latin High Mass! We will have a Schola, and Missals will be provided with Latin on one side and English on the other, so it is not difficult to follow along. After Mass, we will enjoy a potluck in the conference room. Bring something to share and take advantage of a great chance to ask Father questions and make some new friends. Find out why Traditional Latin Mass is so awesome HERE.
See you there!

The 2016 Catholic Men's Conference is this Saturday, March 5th!


The 2016 Catholic Men's Fellowship of Maryland conference at St. Philip Neri's Catholic Church in Linthicum. This year's theme is Trust and Mercy and will feature amazing speakers such as Fr. Larry Richards, Baltimore Ravens Head Coach John Harbaugh, and Deacon Larry Oney. Our Lady's Center has once again been invited to exhibit at the show, and we are so excited! Stop by and check out our selection of Divine Mercy items, Bibles, devotional and sacramental items.
OLPH's New Adoration Chapel Opening Soon!

Our Lady of Perpetual Help's lovely new Adoration Chapel is set to open this April. Eucharistic Adoration hours are being expanded from Wednesdays through Fridays in anticipation of eventually offering perpetual Adoration. Fr. Eric Arnold has requested us to spread the word in hopes that some of our patrons might be able to cover an hour for them. We are happy to help! Sign up

here

. Also remember that OLC always has Eucharistic Adoration on Fridays between the noon and 7:30 Masses, and regular adorers are needed here as well. Make a date with the Lord...or two! The more you adore Him, the more you will be transformed. He is waiting for you.
Spread the "Word"!

March Special Feasts


St. Katharine Drexel


March 3



St. Casimir of Poland


March 4



Laetare Sunday


March 6



Sts. Perpetua & Felicity


March 7



St. Thomas Aquinas


March 7th



St. John of God


March 8



St. Gregory the Great


March 12



St. Patrick


March 17



St. Cyril of Jerusalem


March 18



St. Joseph, spouse of Mary


March 19



Palm Sunday


March 20



St. Benedict


March 21



Holy Thursday;
St. Gabriel the Archangel


March 24



Good Friday:
The Annunciation


March 25



Holy Saturday


March 26



Easter Sunday


March 27




Who's On Board: Bob Nichols

Bob credits twelve years of Catholic education, including Mount St. Joe's and almost as many years as an altar server at St. Joseph's Monastery, with providing him a solid Catholic faith foundation. He and wife Jean have been parishioners of Resurrection Parish in Ellicott City for over 30 years. Well before the devastating fire that burned OLC, they discovered our chapel by venturing down the long driveway out of curiosity. They were soon "hooked" and began attending daily Mass and weekly Adoration here. Bob had attended Johns Hopkins University, and most of his working career was in managing computer systems development until he retired as a Managing Director for computer systems for a multi-state area. His tasks as a board member at OLC include administrative activities involving compliance with government regulations, payment card issue resolution, and some grounds maintenance. He humbly notes however, that his most indispensable responsibility is being "The Towel Man," making sure we have an ample supply of paper hand towels for the restrooms. Volunteering is not new to Bob and his wife Jean, who were longtime, active volunteers and fundraisers for Mission of Mercy, a privately-funded medical clinic on wheels, on whose board Bob also served. They also raised a large family together of seven children, twelve grandchildren and soon to be three great-grandchildren. Bob, thank you for your years of devotion and service to OLC. We can't...towel...you enough how much we appreciate it!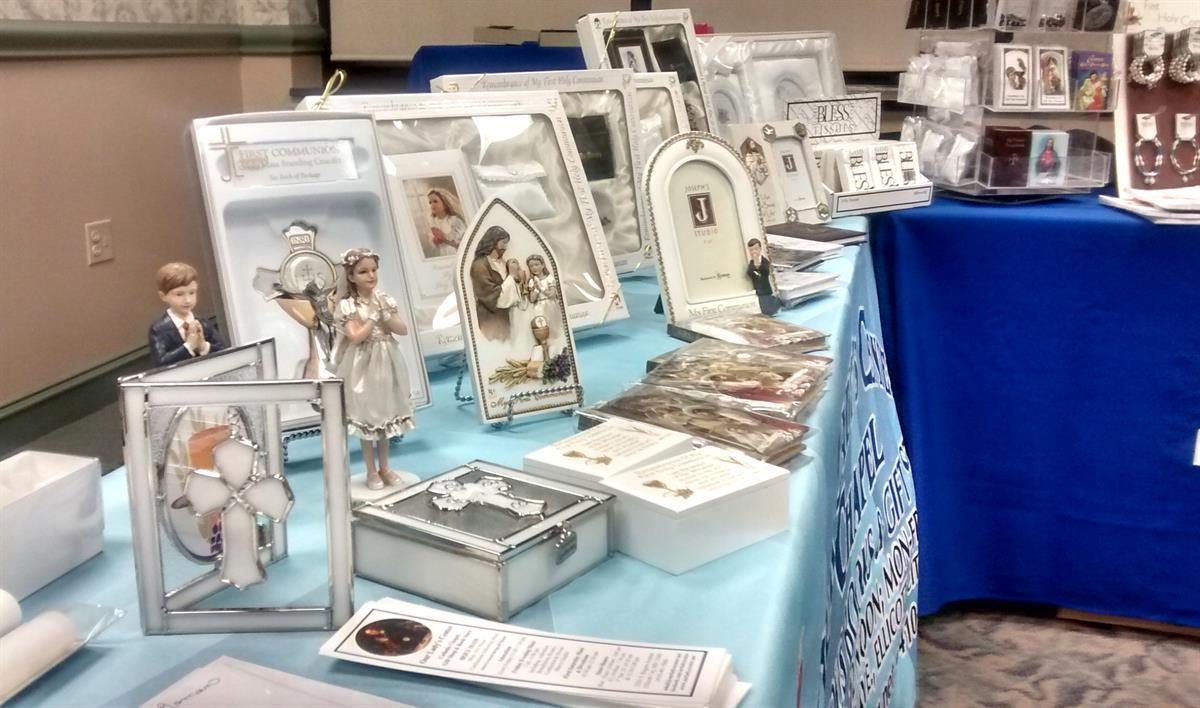 Visit our huge First Holy Communion section filled with boy's and girl's missal sets, children's bibles, handmade veils, purses, communion jewelry, medals, pins, greeting cards, statues frames, and giftware! New items arriving daily.
| | |
| --- | --- |
| Father Gaitley's newest book came in and sold out immediately! More on the way. Call to reserve yours now! | Holy Bears are here in time for First Holy Communions & Confirmations...and scoop up Resurrection Bunny for Easter! |
| | |
| --- | --- |
| This 11" St. Joseph Statue has a drawer containing a prayer for his intercession! | Irish giftware for St. Patrick's Day: crosses, mugs, rosaries and more. |
SAVE YOUR INK!
Click
HERE
for a printer-friendly coupon.
MARCH SPECIAL!
20
% OFF
One St. Joseph Item OR
one St. Patrick item
Must present coupon at time of purchase. Valid on regularly priced items only.
Coupon not valid on previously purchased items and cannot be combined with other coupons. Limit one coupon per visit.
Expires 03/31/2016
Our Lady's Center Marian Shrine

Can't Get to our Store?

Our homebound and out-of-town patrons have found shopping at our online store convenient and helpful. We carry a variety of medals, crucifixes, and rosaries there for your convenience. You can shop anytime and choose to have your items shipped either to your home address or to anywhere you need them sent. We thank you for supporting OLC and appreciate any and all patronage as the proceeds of all sales go toward supporting our unique apostolate. Click here to visit now: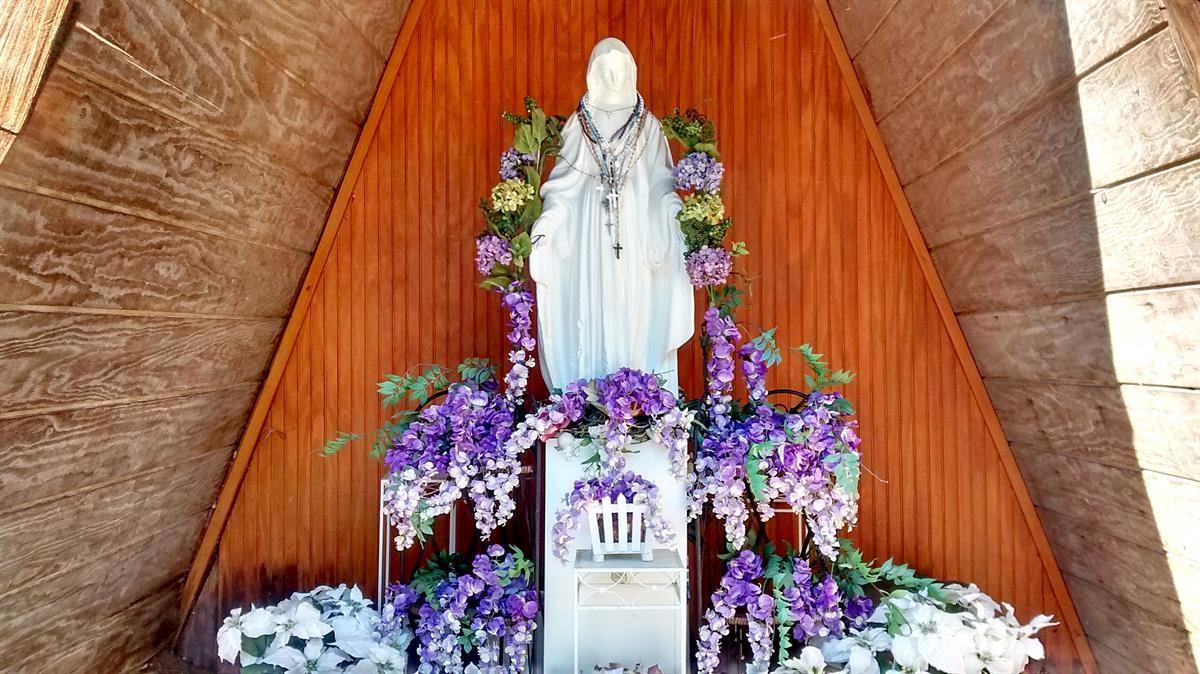 Thank you, Ada Vergne, for decorating Our Lady's Grotto so beautifully for Lent!
Store Hours
Monday - Thursday: 10:00 am - 4:00 pm*
Friday: 10:00 am - 7:30 pm*
First Saturday: 10:00 am -10:30 am; 12:30 pm - 2:00 pm
*Please note that the store is always closed during the noon Mass
Chapel Hours:

Holy Sacrifice
of the Mass

Monday-Friday: 12:00pm
Friday night: 7:30 pm
1st Saturdays: 10:30 am

Rosary


Monday-Friday: 11:30 am



Confessions


Following all Masses



Adoration


Friday: 12:30 - 7:30 pm


Friday Night Devotions



Holy Mass: 7:30 pm
Followed by: Confessions, Rosary, Divine Mercy Chaplet, Adoration of the Blessed Sacrament and Benediction
| | |
| --- | --- |
| Our Lady's Center Marian Shrine is a Catholic lay apostolate within the Archdiocese of Baltimore located outside of Baltimore, Maryland in Ellicott City. We offer the Holy Sacrifice of the Mass and confessions upstairs in our chapel each weekday and on first Saturdays. Downstairs in our beautiful store, we carry a large selection of Catholic books and religious articles to meet every need. We have many events and activities throughout each month. | |