"To Jesus through Mary"
410-461-5066 • 3301 S. Rogers Avenue, Ellicott City, Maryland 21043
Turn between the blue mailbox and guardrail and follow our lane to lovely oasis of peace!
www.ourladyscenter.net • email@ourladyscenter.net
July 2022 Newsletter
We dedicate this month to the Most Precious Blood of Jesus.
Pray to be covered in the blood of the Lamb and protected from all evil.
First Friday Mass & Devotions
Friday, July 1st at 12:00 Noon & 7:30 pm Masses
Masses are followed by Exposition and Confessions.
First Friday Promises
First Saturday Mass, Devotions & Patriotic Rosary
on the eve of Independance Day!
July 2nd, 10:30 am
Shop open 9:45-10:30 am & 11 am-2 pm
Come join the battle by praying a Rosary for the protection and healing of the United States of America, each state and all the people in it, the Governors, state, county and municipal offices, the US Senate, House of Representatives, Supreme Court and the Office of the Presidency, our military, our first responders, our Bishops, Priests and Religious, for the conversion of hearts, and for true justice and lasting peace in our land. Many prayers are needed!!
First Saturday Promises
PLEASE NOTE THE CENTER WILL BE CLOSED ON MONDAY, JULY 4TH
as well as Sunday July 3rd in observance of Independence Day.
Holy Hour of Reparation


to the Sacred Heart before the Blessed Sacrament
Second Fridays of the Month following Noon Mass
JULY DATE: 7/8


Booklets provided
In light of the affronts against God and his creation which are being perpetrated and increasingly promoted in our world, we are again making this powerful devotion a regular activity. Come join in these vocal prayers of thanksgiving and reparation to the Blessed Trinity and especially our Savior, prayers through our dear Blessed Mother, and all the saints for unity in the Church, for sinners of all types, for a just and lasting peace in the world and more!
Flame of Love Cenacles

These prayer groups meet weekly in the Chapel on

Tues. at 10 am, Thurs. at 10 am & 2 pm to pray for the Flame of Love of the Immaculate Heart of Mary, which is Christ Himself, to be enkindled in our hearts and bring about a new Pentecost. There is no denying that this is exactly what our broken and hurting world needs. Learn more about this powerful and growing devotion HERE. Contact Board Member Ada Vergne for the materials and to sign up. Live streaming available for those who cannot attend in person.
Blanket Making Workshops
2nd & 4th Tuesdays, 1:00 pm in the Conference Room
JULY DATES: 7/12 & 7/26
All are welcome after Mass in the Conference room to help make blankets for Project Linus to be distributed to children in crises. Some of our blankets have been shipped to the Ukraine. Others have gone to shelters and hospitals. Come learn a newer, faster, simpler technique. Material is provided. Monetary donations are also accepted to go towards the cost of fabric.
Children's Storytime & Craft

2nd & 4th Wednesdays of the month, 10:30-11:30 am in the Conference Room

JULY DATES: 7/13 & 7/27

Bring the children to hear Mrs. Ginny read entertaining and wonderfully virtuous Catholic children's books, do a fun craft, and enjoy a snack. RSVP so we know how many snacks and crafts to have on hand, but last minute drop-ins are always welcome!
Scapular Investiture
on the day before Our Lady of Mount Carmel's Feast Day
Friday, July 15th, following Noon Mass*

Have you been formally invested with the Brown Scapular? This is the perfect time to be enrolled in the Scapular and to begin wearing it devoutly, in anticipation of the Feast of Our Lady of Mount Carmel. This garment may be over 760 years old, but it is always in style...and truly a one-size-fits-all! Read more about the Brown Scapular sacramental, Our Lady's promises, and more

HERE.

If you don't already possess a brown scapular, come into the Bookstore and pick one up before Mass. We have a nice variety of Brown Scapulars available for purchase.
A Fond Farewell to a Beloved Team Member & Friend
Mary Sharp has been a huge part of OLC for over a decade. She was a devoted patron well before she was invited to take on a part-time position here. Her sweet smile, gentle nature and hospitality has warmed many a heart, and no one could leave her side without feeling loved and valued. She always made time to listen with a caring heart, and she followed through on every prayer she promised. Her enthusiasm and love for Our Lord and Our Lady animated her every thought and word in her time here, and her joy was truly contagious. Mary especially enjoyed the various OLC "shows" where we bring our religious articles to display and sell. Her final show was the St. Louis Clarksville Picnic just last weekend. Mary's presence will be missed. We wish her well as she, husband Bill and son William embark on a new adventure, making their new home in North Carolina near family members. May God bless and protect them always. Who knows, maybe Mary will start an OLC South.
A Warm Welcome to Our Newest Team Member!

Karen Smith has joined the OLC family, and we are very excited to welcome her. She and her husband of 22 years, Steve, have raised two beautiful daughters. You may be familiar with his musical talents at the Shrine of St. Anthony. They attend Christ the King Parish in Towson. Karen says she is excited to now serve the Lord in this new capacity. She was actively seeking the Lord's direction for the next stage in her life and calls this position an answer to her prayers. Three days after celebrating her younger daughter's graduation from Mount De Sales, she began working here, something her daughters had been hoping she would do for years. It seems the Lord has been preparing her all along, as she is an avid reader, possesses deep faith, and has received training in spiritual mentorship. She is taking on Fridays and First Saturdays, along with filling in as needed, and has already come up to speed in our fast-paced little shop. Be sure to stop in soon to greet Karen and welcome her!

IN THE BOOKSTORE*
*We are a non-profit. All sales go towards supporting the Shrine!

SUMMER READING SPECIAL!
Buy 5 or More Books
& Get 15% off ALL of Them!
We have the largest selection of Catholic books in the region including spiritual classics, devotionals, children's books and more. New releases arriving daily! See below for details!
| | | |
| --- | --- | --- |
| Fulton Sheen reminds us there is nothing new under the sun. Trusting God amidst totalitarianism, paganism & war. | Are we alone in the Universe with God and the Angels? Explore the possiblilities without fear. | Peace Be With You: Keys for coping with anxiety, sadness, anger & doubt. |
Eucharistic Adoration
We have a wide variety of books, devotionals and to help us grow in faith in and love for the Real Presence of Jesus in the Blessed Sacrament.
Indoor/Outdoor Statues
for Backyard Shrines and Sunroom Mary Gardens
Come see our wonderful selection of concrete statues as well as our lightweight, durable plastic statues in plaster white or granite stone finishes. They are an affordable option which is easily transportable and can be secured with a dowel or made heavy by filling with a cement mixture. They come in 24" and 32" sizes and are made in the USA.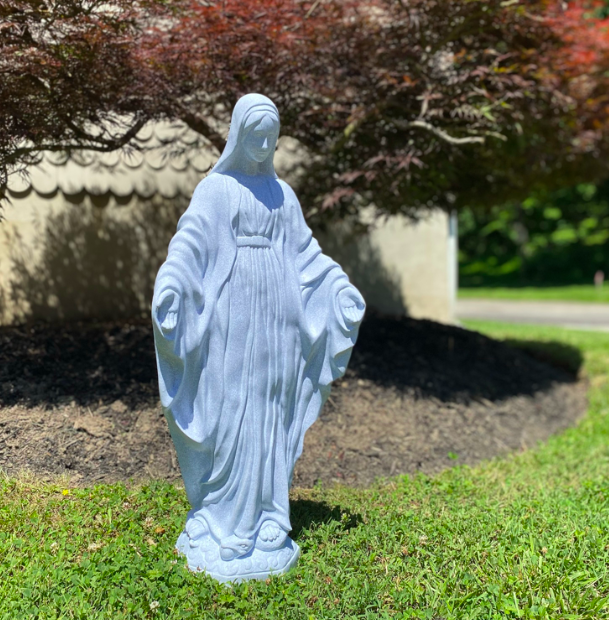 32" Our Lady of Grace statue in granite finish recently donated to the St. Louis Church Silent Auction.
Gallery Wrapped Canvas Prints

Prints by RL George Studio are in stock in two sizes: 8x10" or 12x16." Choose from Our Lady of Tihaljina, Holy Face of Christ, Holy Trinity, or Portrait of Christ (shown) as well as Our Lady of Fatima, Our Lady of Guadalupe and Forgiven. Richard L. George is a Catholic artist who earned a degree in Theology from Franciscan University of Steubenville. He and his wife Margaret run a family apostolate with their 8 children of evangelizing through beautiful art.
JULY NO-CLIP COUPON:
Summer Reading Special:
Buy 5 or More Books and Get
15
% OFF
ALL of Them!
No coupon necessary. Valid on regularly priced, new, in-stock books only. All books must be purchased at same time for discount. Not valid on previously purchased books and discounted books. Some exclusions apply. Not valid on booklets, select liturgical publications. Cannot be combined with other coupons or discounts.
Expires 07/29/2022
Store Hours
Monday - Thursday: 10:00 am - 4:00 pm*
Friday: 10:00 am - 7:30 pm*
First Saturday: 10:00 am -10:30 am; 12:30 pm - 2:00 pm
*Please note that the store is always closed during the noon Mass
Holy Sacrifice of the Mass
Monday-Friday: 12:00pm
1st Saturdays: 10:30 am
​
Confessions Follow all Masses

Adoration Friday: 12:30 - 2:00 pm
Our Lady's Center Marian Shrine is a Catholic lay apostolate within the Archdiocese of Baltimore located outside of Baltimore, Maryland in Ellicott City. We offer the Holy Sacrifice of the Mass and confessions upstairs in our chapel each weekday and on first Saturdays. Downstairs in our beautiful store, we carry a large selection of Catholic books and religious articles to meet every need. We have many events and activities throughout each month.