Thy Word Newsletter
May 2015
May Procession & Crowning
Wed. May 13 following
12:00 Noon Mass

Traditional Latin Mass
& Potluck Dinner

May 26, 6:30 pm

Legion of Mary
Fridays weekly
5:00 p.m.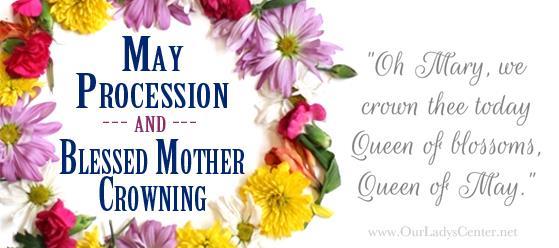 Our Lady's Center is excited to be hosting a May Procession and Crowning of the Blessed Mother on May 13, the Feast Day of Our Lady of Fatima. Following 12 p.m. Mass, we will process outside to the A-frame to crown the statue of Our Lady. Homeschoolers who just celebrated their First Holy Communion are encouraged to come in their dresses and suits.
Did You Miss Us?
You may have noticed our April e-newsletter never made it to your inbox. April was incredibly challenging, as a myriad of issues struck at one of our busiest times. Through God's grace, Our Lady's help, and thoroughly dedicated staff and volunteers, we are adjusting well. Please join us in offering prayers for and sympathy to Mary, whose dear mother recently passed. Also, join us in wishing Theresa well who has left to embrace and prepare for her exciting new vocation of motherhood. Keep her in your prayers for a safe pregnancy and delivery. Our new manager Christine is busy learning the ropes and can't wait to get to know each of you. Be sure to stop in and introduce yourself!
Traditional Latin Mass & Potluck

The Traditional Latin Mass returns this month and will be offered by Fr. Canisius Tah, from the Church of the Resurrection in Ellicott City.

Please join us for a meditative low Mass at 6:30 pm on Tuesday, May 26th with another fun potluck following in the conference room.

Please bring something to share if you can and take advantage of a great chance to ask Father questions and to make some new friends.
The Legion of Mary chapter, "Our Lady Undoer of Knots," meets every Friday at Our

Lady's

Center in the

Conference room at 5 p.m.

If you feel you may be called to serve Our Lady in this way, please come to a meeting to try it out!

The Legion of Mary is a lay apostolate dedicated to spreading devotion to the Blessed Mother and drawing all people closer to her beloved Son. They take on projects such as leading Bible Studies and Book Clubs and are greatly committed to service to Mary and strengthening their faith.
Pray for Vocations with Us!

Did you know that Our Lady's Center hosts
a traveling statue of Our Lord's face and a blessed chalice that you can bring into your home for a two-week period? You can sign up for a slot in the bookstore and once the statue and chalice are in your home, simply arrange them someplace special (your table, your mantle, or home altar perhaps) and make a concerted effort to pray for an increase in vocations. You can use the many pamphlets and prayer aids that we provide you with or offer any prayers of your own. Then you simply return everything on the designated day and sign up for another slot if you like! Sign up in the store!
Thanks a Ton, Literally!
A super huge thank you to
Carol Curley and the
Patapsco Heritage Greenway and Cub Scout Pack 495 who came together recently to clear a whopping 2500 pounds of debris from the stream and premises! We are abundantly blessed by the service and time so many put in on behalf of the Center. If you feel called to serve in this way, we do still need coordination of cleanup of the hillside behind the dealerships along the left side of the lane.

Online Donations Made Easy!


Remember, you can always make a secure online donation to Our Lady's Center through PayPal. This means you have the freedom to donate using your credit card, checking, or PayPal account...whatever you like! You also have the choice between making a special one-time donation or signing up for an automatic monthly donation. You can donate regularly without ever having to remember or go to any extra trouble! We are so blessed and grateful to our entire community for always supporting us both spiritually and financially. God bless you!
An Entire Month for Moms

May is a month for mothers, particularly dedicated to Our Blessed Mother. Celebrate all month long with these spiritually-edifying ways of honoring our mothers:

- Have a Mass offered for her intentions!
There is no more powerful prayer.
- Help her create a prayer garden (inside
or outside) with flowers and a statue.
- Offer to God your least favorite chore
as a sacrifice in honor of your mother.
- Instead of flowers, create a spiritual
bouquet of rosaries, Masses, novenas,
and other prayers offered for her.
- Give Mom a new miraculous medal,
rosary, or statue of the Blessed Mother
- Ask to pray with her. She will love it!

Upcoming Events


May Procession and Crowning of Mary
Wednesday, May 13 following 12 p.m. Mass

Traditional Latin Mass & Potluck Dinner


Tuesday, May 26 at 6:30 p.m.




Fr. Canisius Tah, celebrant





Special Feasts


Feast of St. Joseph the Worker
May 1

St. Monica
May 4

Feast of Our Lady of Fatima
May 13

Feast of the Ascension of The Lord
May 14

St. Rita of Cascia
May 22

Feast of Pentecost
May 24

St. Philip Neri
May 26

Feast of the Most Holy Trinity
May 31
You MAY have a busy month ahead. We can help!

Mother's Day, Graduations, Confirmations, Celebrations...Is the month of May booked solid on your calendar yet? Don't let the dates sneak up on you. Stop in early and browse our selection of little treasures. You'll find something to bless all your special people. We are also now carrying a variety of gift bags as well, so be sure to grab some before you check out.
Vibrant, inspirational soup mugs with nifty lids that turn into coasters

Introducing Mystica Teas
in a variety of exotic flavors from Mystic Monk

Whip up a cake in the microwave in these lovely mugs with delectable recipes
Did Mom wear out her rosary praying for you? We have some lovely replacements

Someone getting Confirmed? Check out our selection of crosses and books

Here at last and going fast! Eleven brand new and
super cute Tiny Saints!

Our Lady's Center Wishlist
Our Lady's Center is fueled by the generosity of its patrons. Many support the work of the Center financially, but gifts of time are also a tremendous blessing to us. Please prayerfully consider helping in one of these areas:
-Help with sending bulletin messages to the local parishes regarding OLC events. This is a very easy, email-based job that really increases our exposure.

-Know someone working on an Eagle Scout or Gold Award project? We love finding projects here at OLC to help fulfill the requirements and beautify the Center!
To volunteer, please call 410-461-5066 or email us!
Donate to OLC for FREE!

If you're shopping on Amazon, you can donate a percentage of your purchases to Our Lady's Center! Just go to smile.amazon.com, select Our Lady's Center, Inc. in Ellicott City, MD as your charity, and you're set! After that, whenever you make a purchase through smile.amazon.com, Amazon will make a donation to us. Of course, you should always make your religious purchases through us, but what a blessing to donate when you purchase kitchenware, games, movies, furniture, or whatever else you need! Thanks for all of your support!
10% OFF ONE STATUE
OF OUR LADY
[Offer for ONE regular priced statue of Our Lady only. Limited to one item per customer. Must present coupon at time of purchase.]
Expires 05/31/2015
Our Lady's Center Marian Shrine
O Most Holy Virgin Mary, Queen of the most holy Rosary, you were pleased to appear to the
children
of Fatima and reveal a glorious message. We implore you, inspire in our hearts a fervent
love for the recitation of the Rosary. By meditating on the mysteries of the redemption
that are
recalled therein may we obtain the graces and virtues that we ask, through the merits of
Jesus
Christ, our
Lord and Redeemer. - Prayer to Our Lady of Fatima
Store Hours
Monday - Thursday: 10:00 am - 4:00 pm*
Friday: 10:00 am - 7:30 pm*
First Saturday: 10:00 am -10:30 am; 12:30 pm - 2:00 pm
*Please note that the store is always closed during the noon Mass
Chapel Hours:

Holy Sacrifice
of the Mass

Monday-Friday: 12:00pm
Friday night: 7:30 pm
1st Saturdays: 10:30 am

Rosary


Monday-Friday: 11:30 am



Confessions


Following all Masses



Adoration


Friday: 12:30 - 7:30 pm


Friday Night Devotions



Holy Mass: 7:30 pm
Followed by: Confessions, Rosary, Divine Mercy Chaplet, Adoration of the Blessed Sacrament, & Benediction

| | |
| --- | --- |
| Our Lady's Center Marian Shrine is a Catholic lay apostolate within the Archdiocese of Baltimore located outside of Baltimore, Maryland in Ellicott City. We offer the Holy Sacrifice of the Mass and confessions upstairs in our chapel each weekday and on first Saturdays. Downstairs in our beautiful store, we carry a large selection of Catholic books and religious articles to meet every need. We have many events and activities throughout each month. | |