| | |
| --- | --- |
| www.ourladyscenter.net • 410-461-5066 | |

July is dedicated to the Most Precious Blood of Jesus. More about this devotion here and here.


"Eternal Father, I offer Thee the most precious blood of Thy Divine Son, Jesus, in union with the Masses said throughout the world today, for all the Holy Souls in Purgatory, for sinners everywhere, for sinners in the universal Church, those in my own home and within my family." - St. Gertrude.
Thy Word Newsletter
July 2015
Catch up on your reading with new arrivals and great classics in stock now

Children's Story Time
& Coffee Hour
July 17, 10:30 am


Traditional Latin Mass
& Potluck Dinner

July 28, 6:30 pm
Please Note: Our Lady's Center will be CLOSED on July 4th in observance of Independence Day. First Saturday Mass and devotions will not be held.
Please pray for our nation.
What's on Your Reading List this Summer?

Use the coupon below to fill your tote with edifying books and never be disappointed by pointless, mundane reads again. Who will ever suspect you are completing a full spiritual workout while you relax on the beach or dip your toes in the pool? Discover a new favorite saint, soak in the Son, breathe in the refreshing breeze of the Holy Spirit, become one with creation... and your Creator, fully alive. What are you waiting for? Our Lady's Center is stocked up with new arrivals and time-tested classics.
Children's Story Time and Coffee Hour

The "lazy" days of summer are upon us. Encourage your children to put away the electronics and develop a lifelong love of reading

awesome

books. Join us on July 17 at 10:30 am in the conference room for a storybook reading and a fun craft.

We will be providing a snack and juice for the kids and fresh-brewed Mystic Monk coffee for the accompanying adults. And, since you'll be here anyway, why not stay for Mass?
RSVP to email@ourladyscenter.net so we have an idea of how many snacks to have!
Come Experience the Beauty of the Latin Mass!

Once a month, Our Lady's Center hosts a Traditional Latin Mass. Once again, this month's Mass will be offered by Fr. Canisius Tah from the Church of the Resurrection in Ellicott City.

Please join us for a meditative low Mass at 6:30 pm on Tuesday, July 28th. Missals are provided with Latin on one side and English on the other, so it is not difficult to follow along. Following Mass, we will enjoy another fun potluck in the conference room.

Please bring something to share if you can and take advantage of a great chance to ask Father questions and to make some new friends. We are looking forward to seeing you there.
A Celebration of Dedication and Service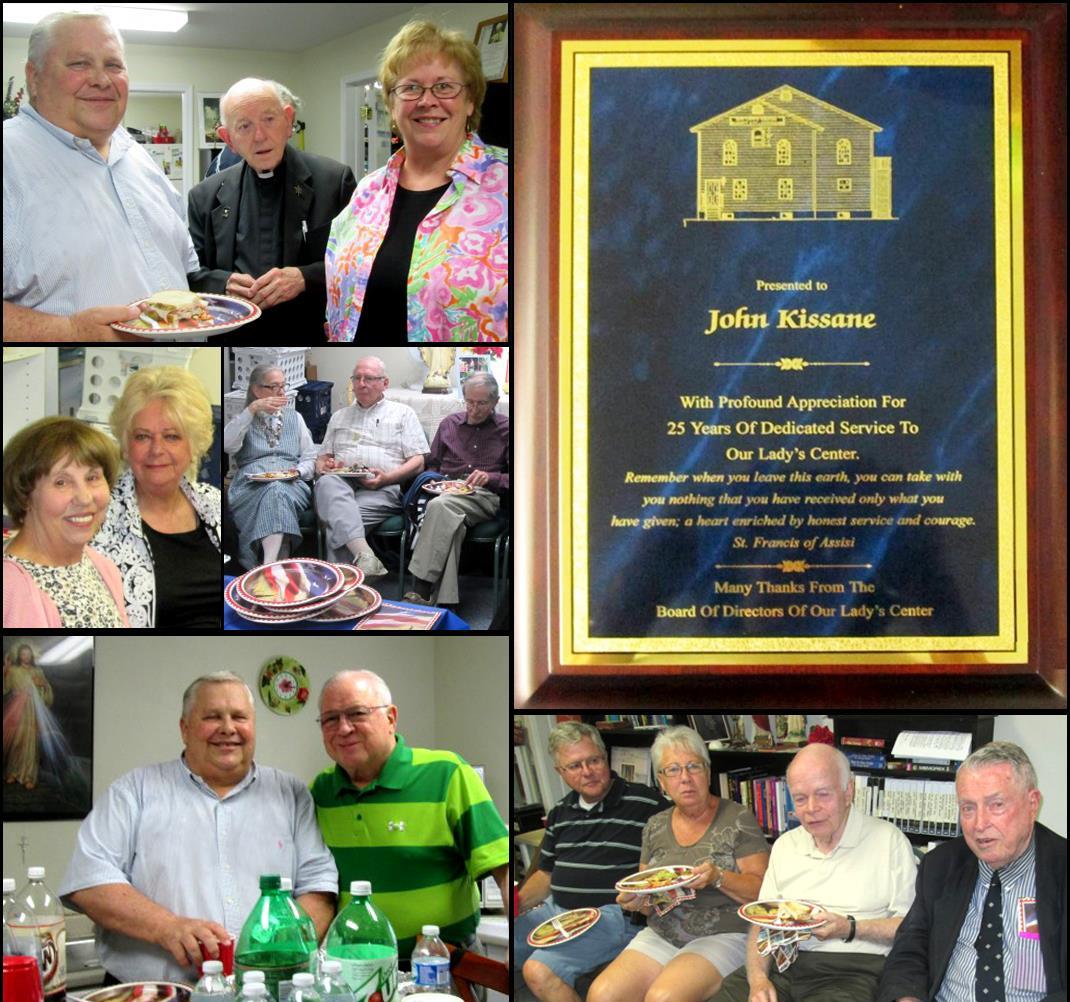 Our Lady's Center hosted a fun celebration last month in honor of Jack Kissane's 25 years of service on the Board of Directors. During the last four years as the President, Jack has enlisted on the Board, a diverse group of leaders who look after the many needs we face each day. For his service and dedication, Jack was presented with an engraved plaque with a heartfelt message. Friends, well-wishers, and OLC staff had a wonderful time together sharing stories and enjoying a veritable feast of delectable goodies (thank you, Carolyn!) Jack expressed his sincere gratitude to all who were present for making the event so memorable.

Please stop by and say hello to our new manager, Christine George Cunningham. Christine is an attentive, energetic, and knowledgeable leader who brings wonderful skills and commitment to the position. She earned a degree in Communications from McDaniel and has worked in advertising as a graphic artist, art director, and supervisor. She and Shawn, her husband of 23 years, are lifelong Catholics, active in St. Louis parish in Clarksville, and have homeschooled their four children. We look forward to the new era of guidance and enrichment that Christine will bring to the heart of Our Lady's Center. She will certainly appreciate your prayers too.

Jack Kissane, President
Our Lady's Center Board of Directors

Who's on Board:
Msgr. Joseph Lizor


Our Lady's Center is blessed to have Msgr. Joseph Lizor on our Board of Directors. Msgr. Lizor recently celebrated his 57th year in the priesthood, having served as chaplain in the U.S. Army for 22 years, rising to the rank of Lt. Colonel, and as pastor of St. Luke's parish in Edgemere for 15 years. He used to fly as a private pilot as well. Although formally retired, Msgr. Lizor helps numerous organizations with daily or weekend services and is a counsel on diocesan and other Church related matters. We are so thankful to have him with us as our spiritual director as well as the regular celebrant of Monday Noon Mass. May the Lord continue to bless OLC for many years to come with Msgr. Lizor's sage counsel and delightful wit!

Look for the rest of our board members to be featured in the coming months.

Upcoming Events


Independence Day
Saturday, July 4th

(OLC closed. No First Saturday devotions this month)



Children's Story Time & Coffee Hour
Friday, July 17, 10:30 am

Traditional Latin Mass & Potluck Dinner


Tuesday, July 28, 6:30 pm




Fr. Canisius Tah, celebrant




Special Feasts


Bl. Junipero Serra
July 1

St. Thomas
July 3

Bl. Pier Giorgio Frassati
July 4

St. Maria Goretti
July 6

St. Benedict
July 11

St. Kateri Tekakwitha
July 14

Our Lady of Mt. Carmel
July 16

St. Mary Magdelene
July 22

St. Bridget
July 23

St. James; St. Christopher
July 25

St. Anne & Joachim
July 26

St. Ignatius Loyola
July 31
July Buys. Summer good. Summer even better!
Come see what we have to help you celebrate all the special days in July.
| | | |
| --- | --- | --- |
| Show your support for this nation and those who defend it with their lives | New, stunning styles of tapestry rosary pouches have just arrived | Celebrate St. Benedict's feast day with a new corded bracelet |
| | | |
| --- | --- | --- |
| Fr. Gaitley's excellent new book on Divine Mercy | If you haven't read this amusing book, you should | Short biographies of joyful saints and why we love them |
SAVE YOUR INK!
Click
here
for printer-friendly coupons
July Summer
Reading Special
10% OFF
Your Purchase of any
Three Books


(Reg. priced of $15.00 - $50.00)



Coupon good in store only.
Must present at time of purchase.
Coupon valid July 1-July 15, 2015.
Our Lady's Center Marian Shrine

Activity Books for
Summer Vacation

Buy 4 St. Joseph
Coloring Books,
Get a 5th one


FREE




Coupon good in store only.




Must present at time of purchase.




Coupon valid July 16-July 31, 2015.

Our Lady's Center Marian Shrine
Why shop at Our Lady's Center?
(instead of an online retailer)
Get your Goods and your Grace all in one Place!


Here, you don't just check an errand off your to do list. At OLC, you visit a joyful, beautiful sanctuary of immense peace where you can go to Mass, receive Confession, even attend Adoration.



Pick our Brains before you Pick your Books:


You get to peruse our books before you purchase, ask our staff questions about the materials, receive recommendations, and even help us become more informed by sharing your own knowledge and insights.



Make New and Lasting Friends:


Meet awesome priests and wonderful Catholics from various area parishes and truly feel a part of a vibrant community of the faithful.



You Will Be Treated with Dignity:


Here, you are never just another customer or order number. You are a beloved brother or sister in Christ. Let us joyfully serve you, and don't be surprised if we remember your name the next time you come in.



Receive Spiritual Satisfaction


Knowing you are helping to support a small but important ministry as we strive to serve Our Lord through the intercession of his Blessed Mother.



Enjoy Our Eternal Gratitude & Appreciation:


We are deeply grateful for your business and spiritual support. May God continue to bless us through your patronage!

Can't Get to the Store?


Our homebound and out-of-town shoppers have found our online store convenient and helpful. We carry a wide variety of medals, crucifixes, and rosaries there for your convenience. You can shop anytime and choose to have your items shipped either to your home address or to anywhere you need them sent. Click here to visit now:
Our Lady's Center Online Store
Store Hours
Monday - Thursday: 10:00 am - 4:00 pm*
Friday: 10:00 am - 7:30 pm*
First Saturday: 10:00 am -10:30 am; 12:30 pm - 2:00 pm
*Please note that the store is always closed during the noon Mass
Chapel Hours:

Holy Sacrifice
of the Mass

Monday-Friday: 12:00pm
Friday night: 7:30 pm
1st Saturdays: 10:30 am

Rosary


Monday-Friday: 11:30 am



Confessions


Following all Masses



Adoration


Friday: 12:30 - 7:30 pm


Friday Night Devotions



Holy Mass: 7:30 pm
Followed by: Confessions, Rosary, Divine Mercy Chaplet, Adoration of the Blessed Sacrament, & Benediction

| | |
| --- | --- |
| Our Lady's Center Marian Shrine is a Catholic lay apostolate within the Archdiocese of Baltimore located outside of Baltimore, Maryland in Ellicott City. We offer the Holy Sacrifice of the Mass and confessions upstairs in our chapel each weekday and on first Saturdays. Downstairs in our beautiful store, we carry a large selection of Catholic books and religious articles to meet every need. We have many events and activities throughout each month. | |