| | |
| --- | --- |
| www.ourladyscenter.net • 410-461-5066 | |

"Look to the Star. Call upon Mary. In danger, in difficulty or in doubt, think of Mary. Call upon Mary. Keep her name on your lips. Never let it pass out of your heart. Following in her footsteps, you will not go astray; praying to her, you will not fall into despair; thinking of her you will not err. While she keeps hold of your hand, you will not fall...you will not grow weary...you will have no fear...Enjoying her protection, you will reach the goal." - Saint Bernard of Clairvaux
Thy Word Newsletter
August 2015
Our Lady's Center Capital Campaign is underway! Along with proceeds from
the
bookstore, OLC relies on the donations of generous benefactors. Please consider becoming a vital part of the center's continued success. The help you provide now will go towards funding the cost of operating OLC, ensuring the continuation of its mission of providing a place of grace and leading people to Jesus through Mary. Click the button above to give.
OLC needs your TLC!
Children's Story Time
& Coffee Hour
August 14, 10:30 am


OLC Legion of Mary is
hosting 2000 Hail Marys
August 15, from 8:30 am

Traditional Latin Mass
& Potluck Dinner

August 25, 6:30 pm
Follow us on Facebook, Instagram & Twitter, and always be in the know.
Children's Story Time
& Coffee Hour

Join us on August 14th at 10:30 am in the conference room for a storybook reading and a fun craft.

We will be providing a snack and juice for the kids and fresh-brewed coffee for the accompanying adults. And, since you'll be here anyway, why not stay for Mass? RSVP here so we are sure to have enough craft supplies and snacks!

And be sure to check out some of the photos from the July Story Time and Craft featured below!
A Day Devotions with
the Legion of Mary


Our Legion of Mary "Our Lady Undoer of Knots" Praesidium is hosting a 2000 Hail Marys Devotion in the chapel on Saturday, August 15th, in honor of the Feast of the Assumption. It will begin with 8:30 am Mass and continue with the Exposition of the Blessed Sacrament and devotions throughout the day.

The devotions begin with praying a complete Rosary, then each of 20 petitions is read and followed by 100 Hail Marys.

Come for any part or all day. Refreshments available. Email us for more info or to sign up for a specific time.
Come Experience the Beauty of the Latin Mass!

Please join us for a meditative low Mass at 6:30 pm on Tuesday, August 25th.

This month's Mass will be offered by Fr. Marc Lanoue from St. John the Evangelist Parish in Severna Park.

Missals are provided with Latin on one side and English on the other, so it is not difficult to follow along.Following Mass, we will enjoy another fun potluck in the conference room. Please bring something to share if you can and take advantage of a great chance to ask Father questions and to make some new friends. Find out why Traditional Latin Mass is so awesome here.
July Children's Story Time and Craft Fun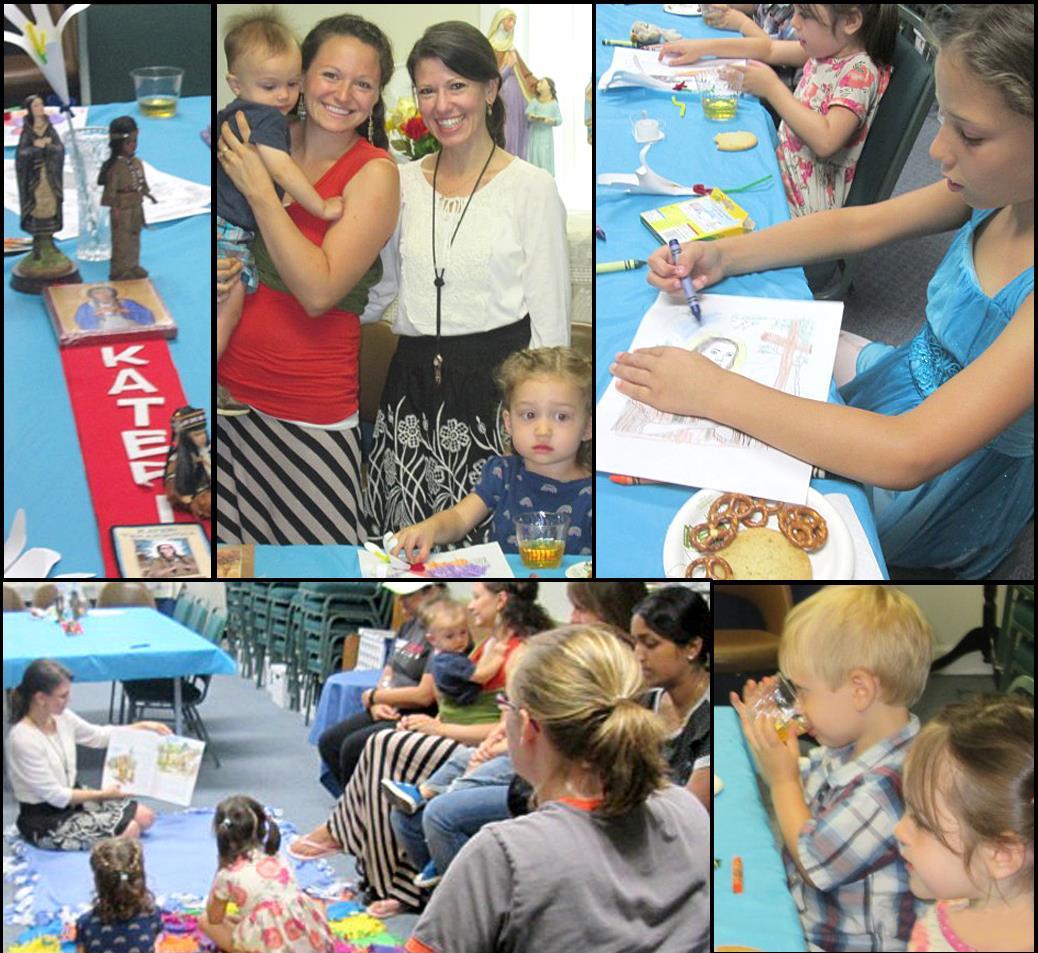 Our first Children's Story Time and Coffee Hour of the summer was a wonderful success! Children and their moms listened to the story of St. Kateri Tekakwitha, Lily of the Mohawks, whose feast day was earlier that week, made lilies out of tracings of their hands, colored pictures, and enjoyed a snack of cookies and juice. Erica, the niece of manager Christine, brought her two children, and we were happy to welcome some new visitors to OLC as well as see some familiar faces. Our next Story Time will be August 14th at 10:30 am. Please join us!
OLC at the Catholic Marketing Network Show in NJ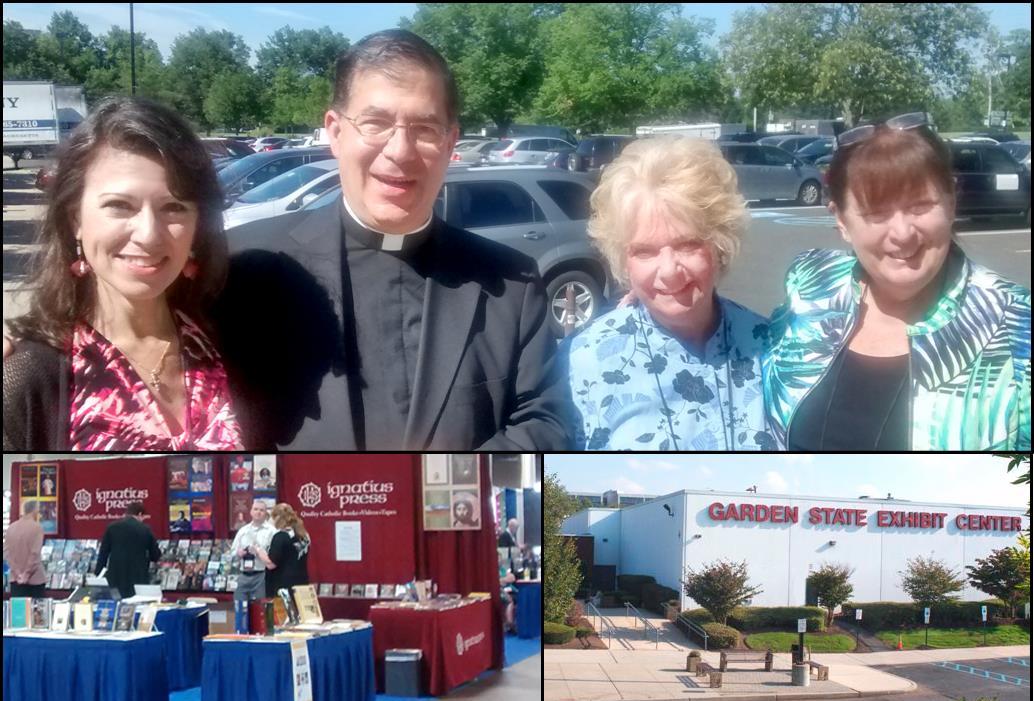 Manager Christine and Board Member Carolyn Niebauer recently traveled to NJ to attended the CMN show, the largest trade show of Catholic merchandise in the country. They were thrilled to speak with Fr. Frank Pavone and author Janet Morana of Priests for Life. In fact, Christine and Carolyn are actually featured on the Priests for Life website
here
! For two packed days, they met with vendors, inspected new products, attended book signings, and placed orders. We are anticipating the arrival of some lovely items and giftware for the Advent and Christmas seasons. Before you shop anywhere else, check out Our Lady's Center! And stay tuned for some exciting guest speaker announcements in the coming months!
Eagle Scout Projects in the News
We love providing local scouts with projects to beautify and improve the grounds of OLC.
Just look what these two resourceful scouts have accomplished in the last few months!
Pot Hole Repair & Safety Markers

The elements were not kind to our lane this past winter. With repaving out of the question, Christopher Sindall of Troop 540 planned and executed the

repair of the more bone-jarring potholes using cold patch asphalt and also

installed

side markers along erosion areas between the lane and stream to ensure the safety of our patrons. Thank you, Christopher!
Installation of Picnic Area
Robert Ayoub of Troop 1997 designed and created an idyllic picnic area by the stream in front of the Center. He spread River Wash stones beneath the three picnic tables and installed a stone walkway from the parking lot. We have already spotted visitors there enjoying their lunches together in the shade. Thank you, Robert!
On Board: Ada Vergne

We are blessed to have Ada Vergne on our Board of Directors. Originally from Puerto Rico, Ada worked as a Computer Systems Analyst with the Dept. of Health and Human Services and holds a Master's Degree in Pastoral Counseling from Loyola U. in MD.

Although technically retired, she is busier than ever. You will often find her helping out in the book store with a

welcoming smile and a ready hug. She manages our Ecce Homo Bust and Chalice program, leads rosary rallies, and catalogs special events at the center. She also volunteers at the Shrine of St. Anthony, makes visits to the elderly, and even finds the energy to take care of her little grandson.

God bless you, Ada, for your willingness to share your time, gifts, and

vibrant faith with everyone you meet!


Upcoming Events


Children's Story Time & Coffee Hour
Friday, August 14, 10:30 am

2000 Hail Marys Devotions


Saturday, August 15, 8:30 am



Traditional Latin Mass & Potluck
Tuesday, August 25th, 6:30 pm


August Special Feasts


1st: St. Alphonsus Ligouri

6th: The Feast of the Transfiguration

8th: St. Dominic

10th: St. Lawrence

11th: St. Clare

14th: St. Maximilian Kolbe

15th: Feast of the Assumption

20th: St. Bernard

22nd: The Queenship of Mary

24th: St. Bartholomew

25th: St. Louis, King of France

27th: St. Monica

28th: St. Augustine

29th: Passion of St. John the Baptist

30th: St. Rose of Lima

Volunteer Spotlight:
Head Server Bob Pallace

Of the six men currently serving at OLC as lectors/altar servers, either regularly or as subs, Bob Pallace has been on the job the longest. In the last ten years or so, he has served an estimated

1,500

Masses! He also volunteers as a lector, greeter and Extraordinary Minister at Church of the Resurrection in Ellicott City. "Serving Mass at OLC is a privilege. In addition to the obvious spiritual benefits, I also enjoy the social aspects of being here. Our Catholic priests and daily Mass attendees are wonderful people. Sharing part of my day with them enriches my life." OLC is grateful to Alice, Bob's wife of 54 years who has been attending Mass at OLC for over 25 years, for

introducing him to us

. Bob, we can't thank you enough for all your years of dedication and service!
Feeling Called to Serve at Our Lady's Center?
Please let us know! We'd love to have you join us, and we can't begin to describe the graces that flow to and through those who serve Our Lady here.
Email us
or stop in the book store.

IN THE BOOK STORE:
Items to Honor Our Lovely Lady
In the month dedicated to Our Lady's Immaculate Heart, we celebrate both the
Feast of the Assumption and the Feast of the Queenship of Mary.

| | |
| --- | --- |
| Come see our elegant standing stone plaques before they disappear | Night lights in beautiful gold frames - perfect Baptism gifts! |
| | | |
| --- | --- | --- |
| How bare are your walls? We have gorgeous laminated posters ready to frame | Pick up this rosary meditation CD dedicated to life and peace - so needed! | Get some grace for your garden space! Lovely statues still available! |
SAVE YOUR INK!
Click
here
for a printer-friendly coupon.
20
% OFF
Any One Blessed Virgin Mary Item
Reg. price $50 or less (15% off if over $50 reg.)
Coupon good in store only. Must present at time of purchase.
Expires 08/31/2015
Our Lady's Center Marian Shrine

Can't Get to our Store?


Our homebound and out-of-town patrons have found shopping at our online store convenient and helpful. We carry a wide variety of medals, crucifixes, and rosaries there for your convenience. You can shop anytime and choose to have your items shipped either to your home address or to anywhere you need them sent. We thank you for supporting OLC and appreciate any and all patronage as the proceeds of all sales go toward supporting our unique apostolate. Click here to visit now:
Store Hours
Monday - Thursday: 10:00 am - 4:00 pm*
Friday: 10:00 am - 7:30 pm*
First Saturday: 10:00 am -10:30 am; 12:30 pm - 2:00 pm
*Please note that the store is always closed during the noon Mass
Chapel Hours:

Holy Sacrifice
of the Mass

Monday-Friday: 12:00pm
Friday night: 7:30 pm
1st Saturdays: 10:30 am

Rosary


Monday-Friday: 11:30 am



Confessions


Following all Masses



Adoration


Friday: 12:30 - 7:30 pm


Friday Night Devotions



Holy Mass: 7:30 pm
Followed by: Confessions, Rosary, Divine Mercy Chaplet, Adoration of the Blessed Sacrament and Benediction
| | |
| --- | --- |
| Our Lady's Center Marian Shrine is a Catholic lay apostolate within the Archdiocese of Baltimore located outside of Baltimore, Maryland in Ellicott City. We offer the Holy Sacrifice of the Mass and confessions upstairs in our chapel each weekday and on first Saturdays. Downstairs in our beautiful store, we carry a large selection of Catholic books and religious articles to meet every need. We have many events and activities throughout each month. | |