| | |
| --- | --- |
| www.ourladyscenter.net • 410-461-5066 | |

September is dedicated to Our Lady of Sorrows. Learn more about the devotion here.
Blessed Mother, in joining our sorrows with yours, may we find the joy of eternal salvation with Jesus Christ, Our Lord. We look to you as a model of forbearance and endurance, obedience and meekness, love, patience, and joyful suffering. Amen
Thy Word Newsletter
September 2015
The Blessed Mother's
Birthday Party
September 8, 1:00 pm


Venerate our Relic of the
True Cross of Jesus Christ
September 14, 12:30 pm

The Fall Defend Life
Lecture Tour Begins
September 18, 1:00 pm
We will be CLOSED for Labor Day, Monday, September 7th.
First Saturday Mass will be held September 5th at 10:30 am followed by Benediction, Confession and Devotions. More on First Saturdays
here.
Come Celebrate Our Blessed Mother's Birthday!

The Legion of Mary, "Our Lady, Undoer of Knots" Praesideum of OLC invites you to come celebrate the

Nativity of the Blessed Virgin Mary on Tuesday, September 8th

. Following the Noon Mass, around 1:00 pm, birthday cake will be served in the conference room off the book store in honor of the day

that Mary, the most pure, blessed daughter of Sts. Anne and Joachim, was born,

exactly nine months after the Feast of the Immaculate Conception.

Come celebrate this joyful day at Our Lady's Center!
Come Venerate
the True Cross!

Jo

Join us for this special opportunity to venerate the actual cross upon which Our Lord died for our salvation! Our Lady's Center is the humble steward of this relic, and we will be making it available to you for veneration for a brief time after the noon Mass on Monday, September 14th, the Feast of the Exaltation of the Holy Cross. On this day we celebrate St. Helena's discovery and remember that

"we should glory in the cross of our Lord Jesus Christ, for he is our salvation, our life and our resurrection: through him we are saved and made free." (Entrance antiphon)
Defend Life Lecture
Tour Returns!
Join us for the kick-off of this year's Fall Defend Life Lecture Tour at 1:00 pm on Friday, September 18. Father Michael Roach, Pastor of St. Bartholomew's in Hampstead and long-standing teacher of church history at Mount Saint Mary's Seminary, will speak on Priests, Prisons, and Priest-Catchers: The Story of the Reformation. The so-called "Reformation" in England saw the Catholic Faith persecuted, especially under Queen Elizabeth. Hear the inspiring story from this renowned storyteller of the Catholic Church and her martyrs as she ministered to the remaining faithful in England.
Bidding Farewell
to Fr. Emmanuel

Fr. Emmanuel Fale, who has been faithfully serving our Friday evening Masses for the last four years, is leaving for Dayton University to complete his studies. His final Mass at OLC will be on September 25th at 7:30 pm. A reception will follow, and we will be presenting him with a purse in gratitude for his service. Contributions can be

dropped off in the book store. On Friday evenings, they may be

placed in the "Treasure Box" just inside the chapel door (not the collection basket). Please join us in bidding farewell and many, many blessings to this deeply faith-filled and dedicated priest!
Come Experience the Beauty of the Latin Mass! Please join us for a meditative low Mass on Tuesday, September 29th at 6:30 pm.

This month's Mass will be offered by Fr. Canisius Tah of Resurrection Parish.

Missals are provided with Latin on one side and English on the other, so it is not difficult to follow along. After Mass, we will enjoy another fun potluck in the conference room. Please bring something to share if you can and take advantage of a great chance to ask Father questions and to make some new friends. Find out why Traditional Latin Mass is so awesome here.
A Crowd Prayed
2000
Hail Mary's
(without a football in sight!)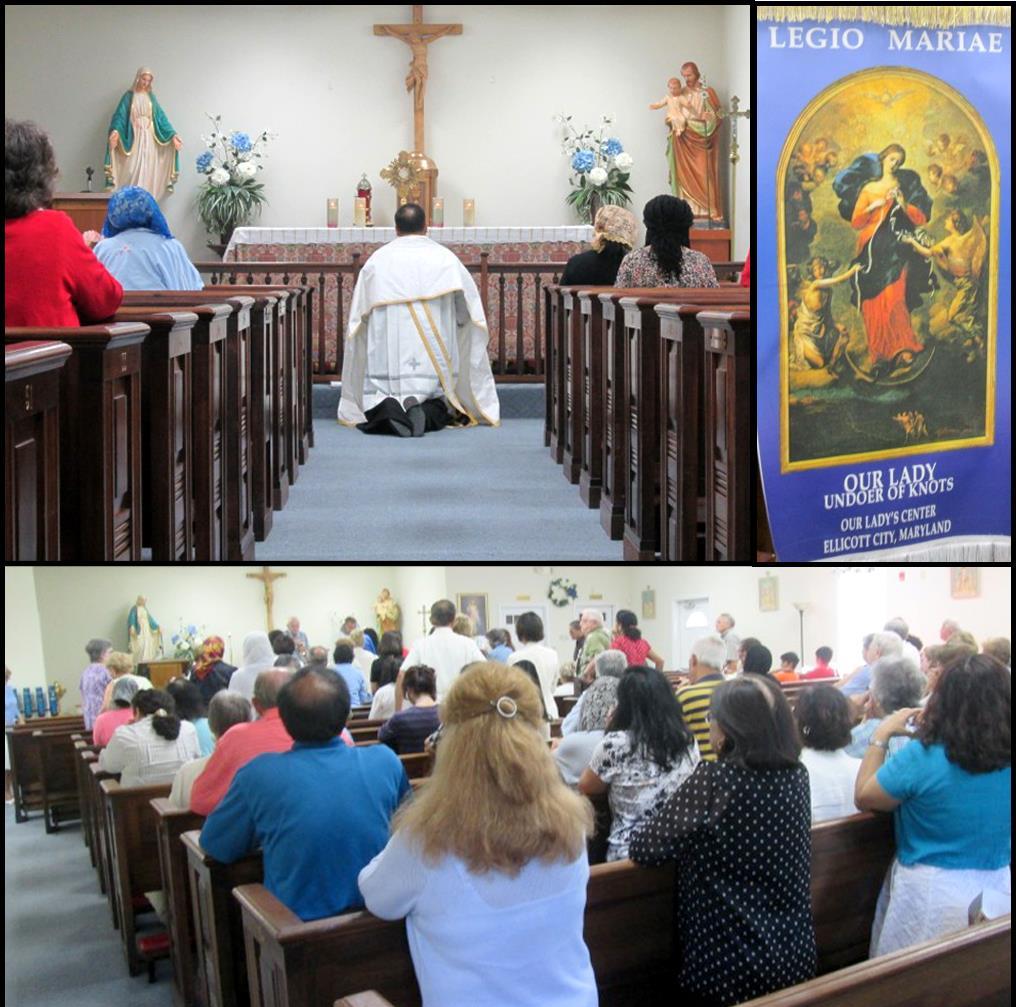 We had a fantastic turnout for the Legion of Mary "Mary Undoer of Knots" Praesideum's 2000 Hail Mary's Devotion which was held on the Feast of the Assumption. Beginning with Mass at 8:30 am and then Exposition of the Blessed Sacrament, the day proceeded with continuous devotions. A full rosary was prayed, and then, after each of 20 petitions, attendees prayed 100 Hail Mary's. An estimated 150 prayer warriors came together from many different area parishes throughout the day to join their voices into one and lift up their prayers for peace, healing, and deliverance from evil. The parking lot was filled, and a bus even arrived from Harford Co. and a van from Virginia. The final devotions were completed around 7:30 pm, and some actually stayed the entire time! Thanks to all. We know amazing things have and will continue to come about because of this amazing day of devotions.
Puppy Fun…and Cookies!

August Children's Story Time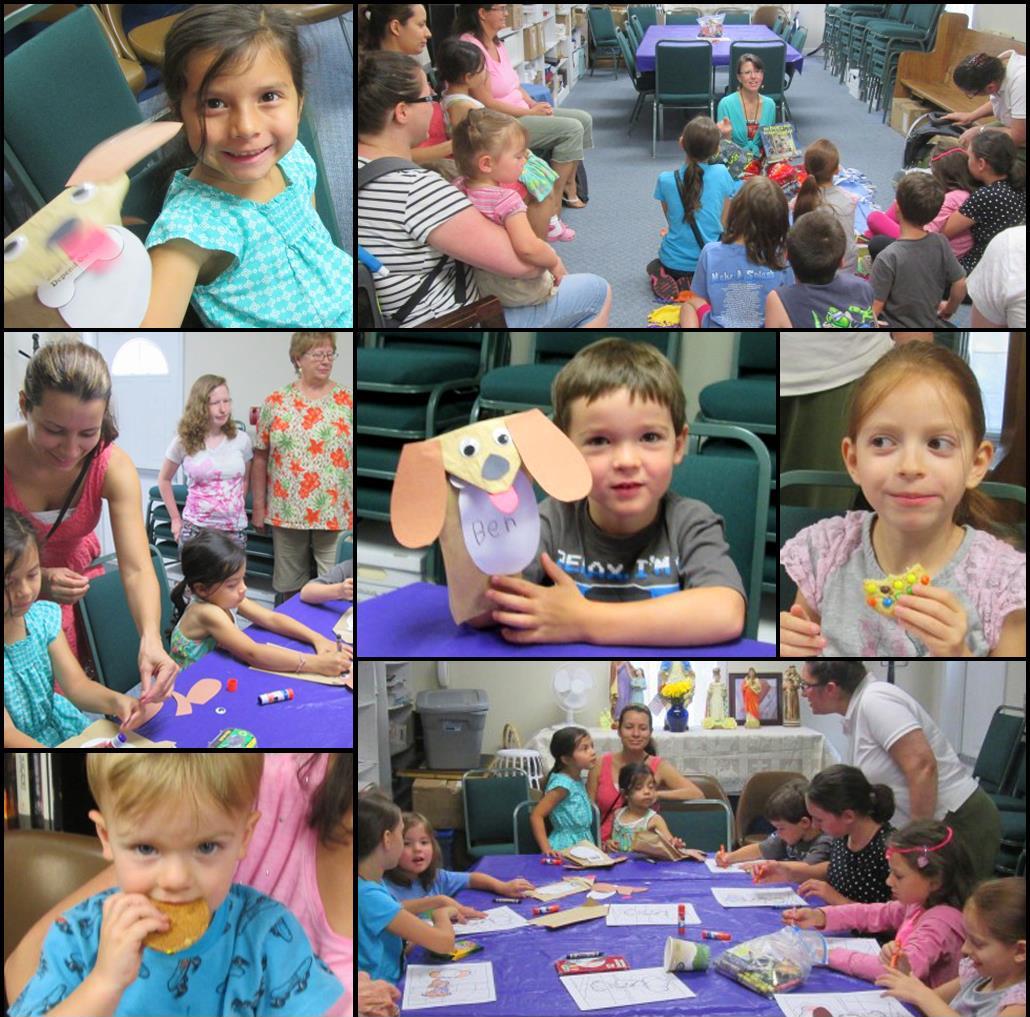 August Story Time was another great success! The children listened to Michael DiAmbrosio's inspiring hot-off-the-presses new release, "The Puppy That No One Wanted," made adorable puppy puppets with tags that said "DOG: Depend on God," colored pictures, and enjoyed their cookies and juice. Their moms were treated to freshly brewed coffee and enjoyed socializing with each other. Ada's cute little grandson, Luke came, and we were truly blessed to have Jack and Grace Kissane's delightful teenage granddaughter from DE volunteer to be with us and help things run so smoothly. Thanks, Bess! We miss you already!
With our 2015 Grateful Hearts Capital Campaign underway, we wish to pause to thank those who have already responded to our appeal.
We feel so incredibly blessed!
If by chance you did not receive an appeal letter and would like to help support our beautiful apostolate, you can mail your donation to 3301 S. Rogers Ave., Ellicott City, MD 21043...or just
click
here!
Even the smallest gift is multiplied through God's grace, and He will never be outdone in generosity. May the Lord bless you abundantly for your kindness!
Papal Visit 2015

The Holy Father is arriving on U.S. soil on September 22nd! He will be visiting Washington D.C., New York City, and Philadelphia, PA. During his visit, he will be canonizing a new American saint,

the Franciscan missionary,

Junipero Serra

. He will also be spending time with those preparing for the

World Meeting of Families

. He has a special devotion to Our Lady, Undoer of Knots, who is renown for her healing of marital and family conflicts. Find out more about Pope Francis' visit

here

and his itinerary

here.

And scroll down for a coupon to use in the book store on any Pope Francis item. Most of all, please keep our Papa in your prayers for a safe trip and a fruitful mission, guided by the Holy Spirit.
2015 MD Catholic Women's Conference
Saturday & Sunday,
October 10th & 11th, Mount St. Mary's University, Emmitsburg.
Our Lady's Center is so excited to again be exhibiting.
Be sure to
register
for the conference, and look for our tables when you come in.
See you there!
Who's on Board:
Carl Kleinschmidt

M

ild-mannered g

overnment contract employee with the SSA by day, Carl instantly becomes OLC's awesome Mr. Fix-it at the first sign of trouble. Whether an issue with facility maintenance and repair, new project implementation, or computer and security systems management, he will take care of it.

Originally from Yonkers, NY, Carl earned a degree in Visual Communications from the U of DE and moved to this area when he married his bride Christy. He became involved with OLC in 2004 through assisting in the rebuilding efforts following the fire, and this is his ninth year serving on the Board. Carl enjoys biking, photography, woodworking, and of course being dad to lovely Madeline. Thank you, Carl, for always picking up the phone when we call!


Upcoming Events


Blessed Mother Mary's Birthday Party
Tuesday, September 8th, 1:00 pm

Veneration of the Relic of the True Cross
Monday, September 14, after noon Mass

Defend Life Lecture Series Talk
Friday, September 18th, 1:00 pm

Father Emmanuel's Farewell Reception
Friday, September 25th, after 7:30 Mass

Traditional Latin Mass & Potluck
Tuesday, September 29th, 6:30 pm


August Special Feasts


St. Gregory the Great


September3



Bl. Mother Teresa of Calcutta


September 5



Nativity of the Blessed Virgin Mary


September 8



Feast of the Most Holy Name of Mary


September 12



Exaltation of the Holy Cross


September 14



Our Lady of Sorrows


September 15



St. Matthew


September 21



St. Padre Pio


September 23



St. Michael, Gabriel, & Raphael, Archangels


September 29



St. Jerome


September 30

IN THE BOOK STORE:
Items to help celebrate Pope Francis' Visit, his favorite devotion: Our Lady,
Undoer of Knots, and the upcoming Year of Mercy

Pope Francis is coming this month!
We have a wide selection of books...

...and a table full of papal memorabilia
for Catholics of all ages.
Mary, Undoer of Knots novenas, prints and statues

Framed Divine Mercy items
for The Year of Mercy.

Grab this New Release!
Believe the impossible.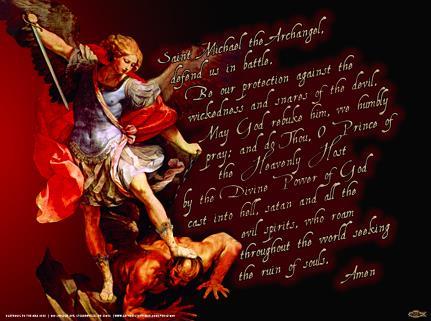 September is also the Month of Angels
The Feast of the Archangels is September 29th wherein we honor St. Michael, St. Gabriel, and St. Raphael. May we always remember to call upon their aid and never forget to offer devout gratitude to God for having placed these heavenly spirits of great sanctity and dignity at the service of man. St. Michael the Archangel, defend us in battle!
SAVE YOUR INK!
Click
here
for a printer-friendly coupon.
20
% OFF
Any One Pope Francis Item
Coupon good in store only. Must present at time of purchase.
Expires 09/30/2015
Our Lady's Center Marian Shrine

Can't Get to our Store?


Our homebound and out-of-town patrons have found shopping at our online store convenient and helpful. We carry a wide variety of medals, crucifixes, and rosaries there for your convenience. You can shop anytime and choose to have your items shipped either to your home address or to anywhere you need them sent. We thank you for supporting OLC and appreciate any and all patronage as the proceeds of all sales go toward supporting our unique apostolate. Click here to visit now:
Feeling Called to Serve at Our Lady's Center?
Please let us know! We'd love to have you join us, and we can't begin to describe the graces that flow to and through those who serve Our Lady here.
Email us
or stop in the book store.
Volunteer Help Wanted:
• ALTAR SERVERS - Dedicated men needed to serve at our Masses
• EVENT LIASON - Email announcements to area parishes for print in bulletins
• SCOUTS - Let's discuss ideas for your Eagle Scout projects

Store Hours
Monday - Thursday: 10:00 am - 4:00 pm*
Friday: 10:00 am - 7:30 pm*
First Saturday: 10:00 am -10:30 am; 12:30 pm - 2:00 pm
*Please note that the store is always closed during the noon Mass
Chapel Hours:

Holy Sacrifice
of the Mass

Monday-Friday: 12:00pm
Friday night: 7:30 pm
1st Saturdays: 10:30 am

Rosary


Monday-Friday: 11:30 am



Confessions


Following all Masses



Adoration


Friday: 12:30 - 7:30 pm


Friday Night Devotions



Holy Mass: 7:30 pm
Followed by: Confessions, Rosary, Divine Mercy Chaplet, Adoration of the Blessed Sacrament and Benediction
| | |
| --- | --- |
| Our Lady's Center Marian Shrine is a Catholic lay apostolate within the Archdiocese of Baltimore located outside of Baltimore, Maryland in Ellicott City. We offer the Holy Sacrifice of the Mass and confessions upstairs in our chapel each weekday and on first Saturdays. Downstairs in our beautiful store, we carry a large selection of Catholic books and religious articles to meet every need. We have many events and activities throughout each month. | |