| | |
| --- | --- |
| www.ourladyscenter.net • 410-461-5066 | |

October is dedicated to the Most Holy Rosary. From the Latin rosarium, rosary means "garland of roses." With every prayer, we hand the Blessed Mother another fragrant blossom. "Of all the prayers, the rosary is the most beautiful and the richest in graces...the one most pleasing to Mary." (Pope St. Pius X). More here.
Heavenly Father, we ardently pray for a new wave of devotion to the rosary, that many may be drawn closer to you through meditating on the mysteries. Amen.
Thy Word Newsletter
October 2015
2015 Rosary Rally
at Our Lady's Center
October 10, 10:30 am

The Fall Defend Life
Lecture Tour Continues
October 16, 1:00 pm

Traditional Latin Mass
with Fr. Canisius Tah
October 27, 6:30 pm

Our Lady's Center will again be Exhibiting at the Maryland Catholic Women's Conference
Mount St. Mary's University
, Emmitsburg on Saturday and Sunday, October 10th and 11th. Be sure to
register
to attend the conference, and look for our tables when you come in.
See you there!
2015 Rosary Rally
at Our Lady's Center
Saturday, October 10, 10:30 am
Our Lady's Center will once again be hosting a Rosary Rally as part of the annual America Needs Fatima Public Square Rosary Crusade. These rallies are always held on the Saturday closest to the Feast of the Most Holy Rosary which is on October 13th, the date of the last apparition of Our Lady of Fatima and the Miracle of the Sun, 98 years ago. There will be thousands of rosary rallies in cities all across the country on October 10th. In 2014, there were 12,629 groups simultaneously praying all across America for our country and the world. Mass at 10:30 am will be followed by Exposition of the Blessed Sacrament and the Rosary.
Defend Life Lecture:
Fr. Stephen Imbarrato "Using the Planned Parenthood Expose to End All Abortion in America"
Friday, October 16, 1:00 pm

With the nation still reeling from the recent, deeply shocking revelations of Planned Parenthood's horrific practices, Fr. Imbarrato's testimony, personal experience, and wisdom can help us envision a strategy to defeat this great evil. Come hear the Gospel of Life preached "from the standpoint of

mercy." Former national coordinator for Seminarians for Life and ordained in 2006, Fr. Imbarrato founded

Project Defending Life

and is a speaker for

Priests for Life.
Come Experience the Beauty of the Latin Mass! Tuesday, October 27, 6:30 pm

Please join us for a meditative low Mass

offered by Fr. Canisius Tah of Resurrection Parish.

Missals are provided with Latin on one side and English on the other, so it is not difficult to follow along. After Mass, we will enjoy another fun potluck in the conference room. Please bring something to share if you can and take advantage of a great chance to ask Father questions and to make some new friends. Find out why Traditional Latin Mass is so awesome here.
A Fond Farewell to Fr. Emmanuel
Fr. Emmanuel Fale has faithfully offered Friday evening Masses at OLC for the last four years. The time, however, has come for him to move on. He will now be completing his studies at the University of Dayton in Ohio. In gratitude for his service and dedication, we celebrated with a reception following his final Mass at OLC on the evening of Friday, September 25th and presented him with a plaque and also a purse of contributions from our generous patrons. Thanks to all who came and those who contributed to show him your appreciation. Father was deeply touched. Please keep him in your prayers as he begins his newest adventure.
Our Birthday Party for Mother Mary was Sweet!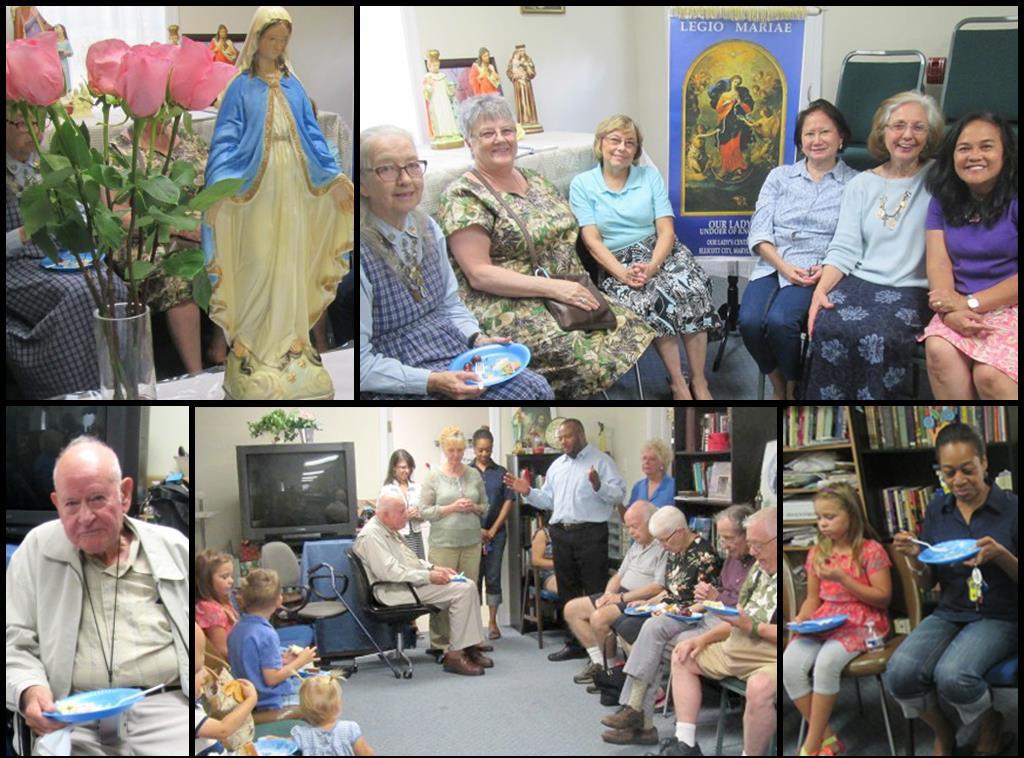 Some will say that we use any excuse for cake, and that is absolutely true. But this was the best of all excuses: a birthday celebration in honor of the Nativity of the Blessed Virgin Mary. The festive event was hosted by the Legion of Mary "Mary Undoer of Knots" Praesideum. Delicious cake, ice-cream, and cookies were enjoyed by all generations, and our visitors included board member Carolyn's dear brother visiting from PA. Many prayers of thanksgiving were offered up for the gift of our sweet and beautiful Mother Mary.
Father Roach "Tudors" OLC on the Reformation
The response was positive for Defend Life speaker Fr. Michael Roach's lecture on Prisons, Priests and Priest Catchers: The So-Called Reformation. Certainly we can glean much inspiration and determination from such deep insights into the persecution of the Church and her supernatural ability to endure the darker periods in her history through the self-sacrificing love of her faithful priests, religious and laypeople. Be sure not to miss the next one on ending all abortion in America by Fr. Stephen Imbarrato on Friday, October 16th!
The Miracle of the Scapulars

It is well known that Our Lady's Center is a place of grace, but once in a while something particularly notable happens. One morning, a brown bag of about 40 unused and neatly knotted scapulars appeared at our door. Manager Christine brought them in but then completely forgot about them. Just before closing time, Maryanna Cain came in looking for inexpensive scapulars to give to Dr. Camille Brown who sends them to the children of Tanzania. She was just about to purchase some when the phone rang. It was a gentleman asking if we received the bag he had left at the door. Manager Christine nearly fell off her chair. The Holy Spirit had nudged her with that phone call! Swiftly, she retrieved the paper bag and presented it to a very shocked and delighted Maryanna. Thanks to caller id, the donor was informed that children in Tanzania would be benefitting from his gift. This is how the Holy Spirit works at OLC!

OLC is honored to be a resource for those supporting missionary work. Dr. Brown and the grateful students of Maua Seminary in Tanzania are shown here with some catechisms ordered previously through OLC by Ms. Cain and donated to Dr. Brown's ministry.

Employee Spotlight:
Gail Segedy
Assistant Manager Gail is basically a living Catholic search engine. Whatever your spiritual needs or interests, she can direct you to an appropriate book, devotion, or religious item to suit your needs. Many have found her advice indispensible. Recently, the Holy Spirit worked through Gail to draw someone back to the Sacrament of Confession and Holy Mass after being away from the faith for 60 years! There is something very St. Catherine of Sienna about Gail's fearlessness, determination, and integrity. If you haven't already met her, stop in the book store and introduce yourself to a future, lifelong advocate. Once you have experienced our Gail's generous nature, commitment to service, deep devotion to Our Lady, and rock solid faith which has withstood much and persevered, you will begin to see why we treasure her here. Thank you, Gail, for all you do!


Upcoming Events


2015 Rosary Rally
Saturday October 10, 10:30 am

Catholic Women's Conference
Saturday & Sunday, October 10 & 11.
Mount St. Mary's College, Emittsburg, MD

Defend Life Lecture Series Talk


Friday, October 16th, 1:00 pm



Traditional Latin Mass & Potluck
Tuesday, October 27th, 6:30 pm


October Special Feasts


St. Therese of Lisieux


October 1



The Holy Guardian Angels


October 2



St. Francis of Assisi


October 4



St. Faustina Kowalska


October 5



Our Lady of the Rosary


October 7



St. John XXIII; St. Damien of Molokai


October 11



Columbus Day


October 12



St Teresa of Avila


October 15



St. Margaret Mary Alacoque


October 16



St. Luke


October 18



St. John Paul II


October 22



St. Simon; St. Jude Thaddeus


October 28
Who's On Board:
Doug Schenk

There is truly no request too small nor task too humble for board member Doug Schenk with his boundless energy and servant's heart. Whether supplying our bottled water needs, turning the altar for Latin Mass, or hauling countless boxes to and from the attic, he completes each service with enthusiasm. Doug and his brothers, with whom he works at nearby J.E. Schenk & Assoc., routinely attend daily Mass at OLC. "I began to learn more about our merciful Lord through the wonderful people who run the book store and their patrons," relates Doug. "I believe our Blessed Mother has a presence here and wants me to do what I can to help. When I listen to the various ways of the faithful who attend and those who visit, it causes me to want to be a part of following Christ and to experience the Love and enthusiasm for the faith as they do." Doug, you're excitement for the faith is an inspiration for us all, and OLC is truly blessed to have you!

SHARING THE LOVE:
Service Ideas for Advent:
Shop for a gift for your favorite charity. Could they use a pretty new Advent wreath?

Offer a Mass for the family of a soldier stationed overseas.

Sing Christmas carols at an elderly home. Bring homemade cookies and prayer cards.

Donate a children's nativity play set to a women and children's shelter.

Bring a gift to a child in the long-term care wing of the children's ward.

Wear Santa hats and tidy up the yard of an elderly neighbor or two.

BOOK STORE: Advent Items & Gift Ideas
It's not too early to get ready. Don't be caught without your candles!

| | |
| --- | --- |
| New Item! Our Lady Undoer of Knots Rosary! | Get your 2016 Calendar before they're gone |
| | | |
| --- | --- | --- |
| New! Get wrapped in a mantle of prayer with our Hail Mary Infinities! | Advent devotions to prepare our hearts for the coming of the Infant Jesus. | Lovely Advent wreaths in stock. Boxed candle sets too (sold separately). |
SAVE YOUR INK!
Click
here
for a printer-friendly coupon.
20% OFF
Any One ROSARY


Coupon good in store or at show.
Must present at time of purchase.

Expires 10/31/2015
Our Lady's Center Marian Shrine

20% OFF
Any One ADVENT item


Coupon good on one Advent wreath, box of Advent candles, Advent book or Advent devotion. Coupon good in store or at show. Must present at time of purchase.

Expires 10/31/2015
Our Lady's Center Marian Shrine

Can't Get to our Store?


Our homebound and out-of-town patrons have found shopping at our online store convenient and helpful. We carry a wide variety of medals, crucifixes, and rosaries there for your convenience. You can shop anytime and choose to have your items shipped either to your home address or to anywhere you need them sent. We thank you for supporting OLC and appreciate any and all patronage as the proceeds of all sales go toward supporting our unique apostolate. Click here to visit now:
Feeling Called to Serve at Our Lady's Center?
Please let us know! We'd love to have you join us, and we can't begin to describe the graces that flow to and through those who serve Our Lady here.
Email us
or stop in the book store.
Volunteer Help Wanted:
• ALTAR SERVERS - Dedicated men needed to serve at our Masses
• EVENT LIASON - Email announcements to area parishes for print in bulletins
• SCOUTS - Let's discuss ideas for your Eagle Scout projects

Store Hours
Monday - Thursday: 10:00 am - 4:00 pm*
Friday: 10:00 am - 7:30 pm*
First Saturday: 10:00 am -10:30 am; 12:30 pm - 2:00 pm
*Please note that the store is always closed during the noon Mass
Chapel Hours:

Holy Sacrifice
of the Mass

Monday-Friday: 12:00pm
Friday night: 7:30 pm
1st Saturdays: 10:30 am

Rosary


Monday-Friday: 11:30 am



Confessions


Following all Masses



Adoration


Friday: 12:30 - 7:30 pm


Friday Night Devotions



Holy Mass: 7:30 pm
Followed by: Confessions, Rosary, Divine Mercy Chaplet, Adoration of the Blessed Sacrament and Benediction
| | |
| --- | --- |
| Our Lady's Center Marian Shrine is a Catholic lay apostolate within the Archdiocese of Baltimore located outside of Baltimore, Maryland in Ellicott City. We offer the Holy Sacrifice of the Mass and confessions upstairs in our chapel each weekday and on first Saturdays. Downstairs in our beautiful store, we carry a large selection of Catholic books and religious articles to meet every need. We have many events and activities throughout each month. | |